Hanifaru Bay: A Unique and Unforgettable Destination
Embark on an unforgettable journey to Hanifaru Bay, a magical marine sanctuary nestled within the Baa Atoll UNESCO Biosphere Reserve in the Maldives.
What sets Hanifaru Bay apart from other travel destinations is its extraordinary concentration of manta rays and whale sharks, offering a once-in-a-lifetime experience for nature enthusiasts and marine life lovers. The bay's pristine waters, vibrant coral reefs, and diverse marine life create a mesmerizing underwater world that will leave you with memories to cherish for a lifetime.
Recognized for its ecological significance, Hanifaru Bay was declared a Marine Protected Area in 2009 and later incorporated into the UNESCO World Biosphere Reserve in 2011.
This article will provide you with all the essential information and insider tips to make your visit to Hanifaru Bay a smooth, memorable, and enjoyable experience.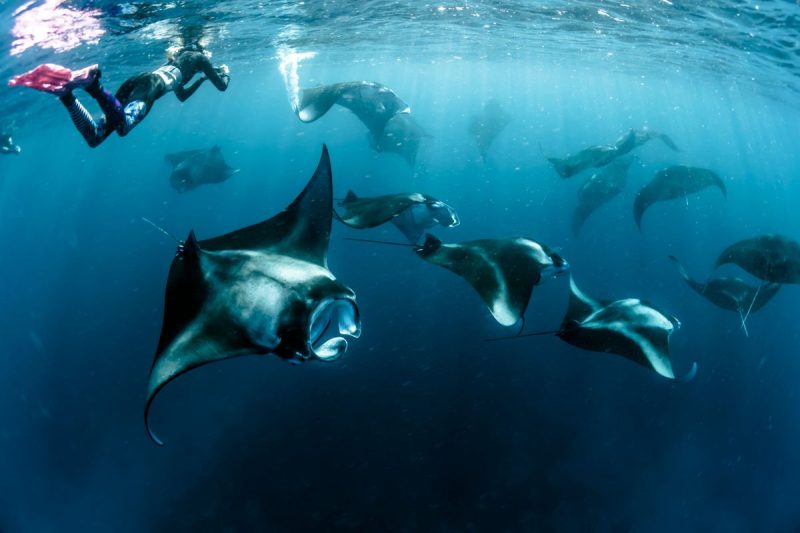 Hanifaru Bay: Location, Wildlife, and Natural Beauty
Situated in the heart of the Baa Atoll, Hanifaru Bay is a small, crescent-shaped lagoon renowned for its vibrant marine life and unique underwater environment. The bay's nutrient-rich waters attract an abundance of sea creatures, most notably the world's largest gathering of manta rays and whale sharks between June and November.
This remarkable phenomenon occurs when the South-West Monsoon season pushes plankton into the bay, creating a feeding frenzy that draws these magnificent creatures in astonishing numbers.
Travel Tips: Getting There, Best Time to Visit, and Entry Fees
To reach Hanifaru Bay, you'll first need to fly into Velana International Airport (MLE) near Male. From there, take a domestic flight to Dharavandhoo Airport (DRV) in Baa Atoll, followed by a speedboat or traditional Maldivian dhoni to the bay. Alternatively, some resorts in Baa Atoll offer direct seaplane transfers from Velana International Airport.
The ideal time to visit Hanifaru Bay is during the South-West Monsoon season, specifically between June and November when manta rays and whale sharks frequent the area. Keep in mind that visiting the bay requires a permit, which can be obtained through a licensed tour operator or your resort. The permit fee helps support the conservation efforts of the Baa Atoll Conservation Fund.
Practical Advice: Packing, Equipment, and Guidelines
Dress appropriately: As the Maldives is a predominantly Muslim country, it's essential to dress modestly when visiting public areas and local islands. Lightweight, breathable clothing that covers your shoulders and knees is recommended.
Bring essential gear: If you plan on snorkeling or diving in Hanifaru Bay, pack your mask, snorkel, and fins, as equipment rental options or sizes may be limited. Additionally, consider bringing an underwater camera or waterproof phone case to capture the incredible marine life.
Be aware of restrictions: To protect the fragile marine ecosystem, the use of scuba tanks is prohibited within the bay, and only snorkeling is allowed. Touching or feeding the marine life is strictly forbidden, and visitors must maintain a safe distance from the animals at all times
Activities, Local Cuisine, and Preserving the Marine Environment
Snorkeling is the primary activity in Hanifaru Bay, providing an unparalleled opportunity to witness the majestic manta rays and whale sharks up close. Guided snorkeling tours led by experienced marine biologists are available through licensed operators, offering valuable insights into the bay's unique ecosystem.
After a day of snorkeling, indulge in the flavors of Maldivian cuisine at local eateries or nearby resorts. Sample traditional dishes such as mas huni, garudhiya, and bis keemiya to truly immerse yourself in the local culture.
Preserving the marine environment is crucial to ensuring the continued survival of Hanifaru Bay's unique wildlife. Follow all guidelines provided by your tour operator, and practice responsible tourism by minimizing your impact on the environment and respecting local customs and regulations.
Conclusion
Hanifaru Bay is a must-visit destination in the Maldives for anyone seeking an unforgettable marine adventure. With its unparalleled wildlife encounters, breathtaking natural beauty, and rich cultural heritage, the bay promises a truly unique and awe-inspiring experience. Embrace the magic of Hanifaru Bay and discover the wonders of this marine paradise.