Maldives Atolls
A string of pearls scattered over the deep blue Indian Ocean – The first glimpse you get of this fascinating atoll- formation confirms two unique aspects of the Republic of Maldives. Not only does it consist of the most beautiful tropical islands, but 99% of its 90.000 km² is covered by the sea. 1190 islands are spread over 26 atolls, ringlike coral formations enclosing a lagoon, which gives the Maldives its unique paradise-like appearance. They stretch for about 820 km from North to South, 130 km at the widest point and do not exceed a length of 4.5 miles. The altitude is about 1.5 to 2.4 meters above sea level.
No more than 200 islands are inhabited, the rest includes over 150 tourist resorts and uninhabited islands, some of which are used fisheries and agricultural activities.
The capital Malé, the seat of government and the center of trade, commerce, business, health and education, is located in the middle of the atoll chain, a small island buzzing with the sounds and activities of about 300,000 people which is about one third of the population.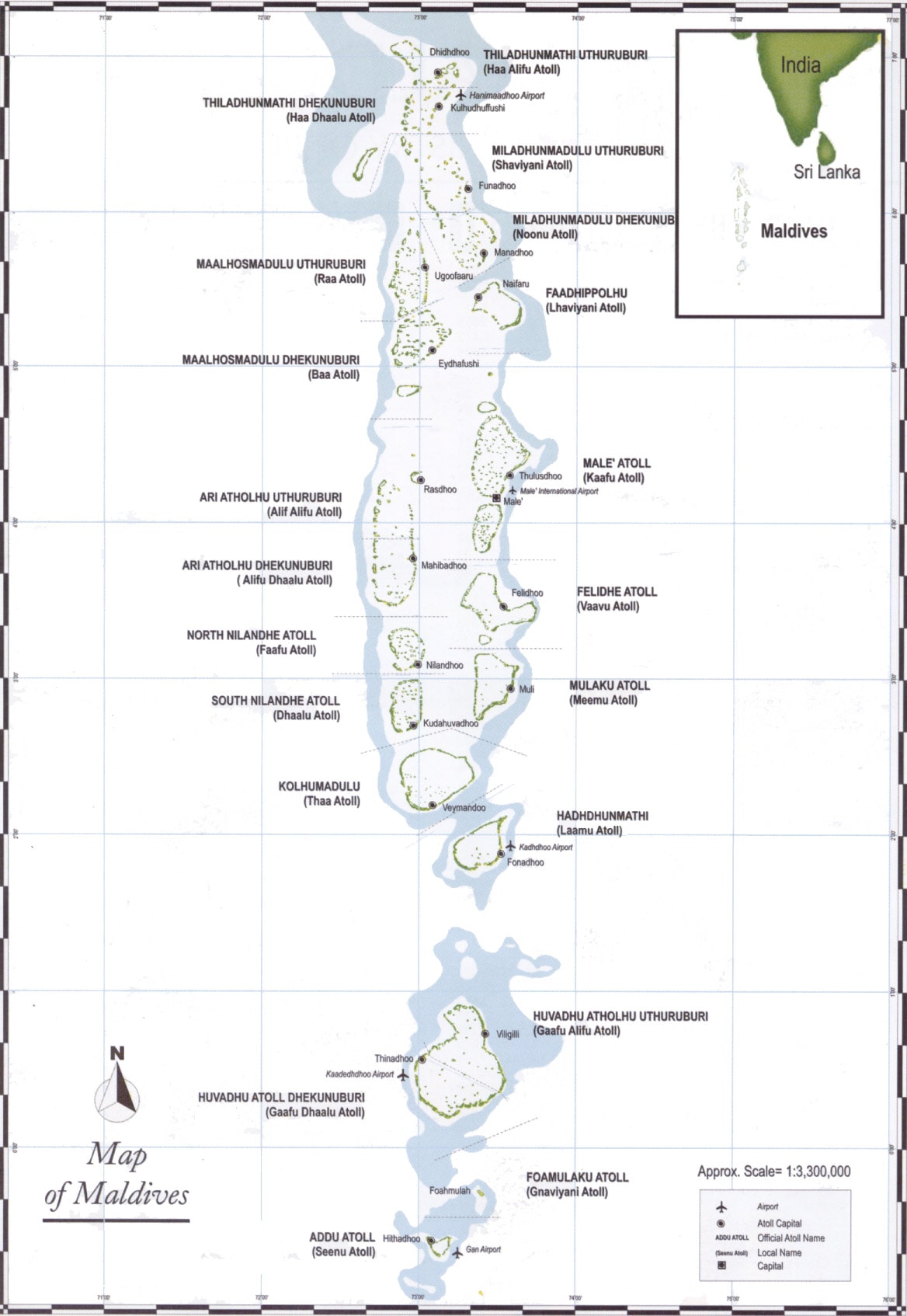 There are 20 Administrative Atolls in Maldives
An atoll is a group of islands with a reef that nearly or entirely encloses a ring-like lagoon. The English word 'atoll' originated from the Dhivehi (official language of Maldives) word 'Atholhu'.
The Maldives has 26 naturally occurring atolls which are divided into 20 administrative atolls. Following is a list of atolls with the formal names.
1. Haa Alifu Atoll – Thiladhunmathee Uthuruburi
Haa Alifu Atoll is famous for its rich history and cultural heritage. It is an excellent place for individuals interested in learning about Maldivian culture and traditions. Read more
2. Haa Dhaalu Atoll – Thiladhunmathee Dhekunuburi
Haa Dhaalu Atoll is well-known for its beautiful coral reefs, white sand beaches, and varied aquatic life. It is a popular diving and snorkeling location. Read more
3. Shaviyani Atoll – Miladhunmadulu Uthuruburi
Shaviyani Atoll is located in the northern Maldives and is recognized for its natural beauty, clean waters, and white sand beaches. It is a popular diving, snorkeling, and fishing location. Read more
4. Noonu Atoll – Miladhunmadulu Dhekunuburi
This atoll is home to some of the Maldives' most opulent resorts and is a favorite honeymoon destination. It is famous for its pure waters, beautiful coral reefs, and white sand beaches. Read more
5. Raa Atoll – Maalhosmadulu Uthuruburi
Raa Atoll is located in the Maldives' middle region and is recognized for its unique marine life and beautiful beaches. It is a popular diving and snorkeling location. Read more
6. Baa Atoll – Maalhosmadulu Dhekunuburi
A UNESCO Biosphere Reserve, Baa Atoll is recognized for its spectacular coral reefs, abundant marine life, and gorgeous beaches. It is a prominent eco-tourist location. Read more
7. Lhaviyani Atoll – Faadhippolhu
The atoll consists of 54 islands, just five of which are inhabited by local people. Lhaviyani Atoll is a popular snorkeling and diving location, with various dive sites offering the opportunity to witness a variety of marine life, including sharks, rays, and colorful fish. Read more
8. Kaafu Atoll – Malé Atholhu
Kaafu atoll is home to the country's capital, Male, as well as numerous luxury resorts. It is a popular tourist destination because of its vibrant nightlife, shopping, and food options. Read more
9. Alif Alif Atoll – Ari Atholhu Uthuruburi
Alifu Atoll is located in the Maldives' middle region and is noted for its beautiful beaches, clear waters, and gorgeous coral reefs. It is a popular diving and snorkeling location. Read more
10. Alif Dhaalu Atoll – Ari Atholhu Dhekunuburi
Alif Dhaalu Atoll is located in the Maldives' center region and is one of the most popular tourist sites in the country. The atoll is home to some of the Maldives' most picturesque islands and beaches, as well as diverse marine life and vivid coral reefs. Alif Dhaalu Atoll is also home to some of the Maldives' most opulent resorts. Read more
11. Vaavu Atoll – Felidhe Atholhu
Vaavu Atoll is noted for its breathtaking natural beauty and abundant marine life, which includes sharks, rays, and dolphins. It is a popular diving and snorkeling location. Read more
12. Meemu Atoll – Mulaku Atholhu
Meemu Atoll is recognized for its quiet beaches and tranquil ambiance. It is a popular vacation spot for individuals looking for peace and quiet. Read more
13. Faafu Atoll – Nilandhe Atholhu Uthuruburi
Faafu Atoll is famous for its natural beauty and beautiful beaches. It is a popular diving, fishing, and surfing location. Read more
14. Dhaalu Atoll – Nilandhe Atholhu Dhekunuburi
Located in the Maldives' southern region, Dhaalu Atoll is noted for its pristine natural beauty, crystal-clear waters, and diverse marine life. Read more
15. Thaa Atoll – Kolhumadulu Atholhu
Thaa Atoll is famous for its beautiful coral reefs, white sand beaches, and rich aquatic life. It is a popular diving and snorkeling location. Read more
16. Laamu Atoll – Hadhdhummathi Atholhu
Located in the southern Maldives, Laamu Atoll is recognized for its unspoilt natural beauty, clean beaches, and outstanding surfing areas. Read more
17. Gaafu Alif Atoll – Huvadhu Atholhu Uthuruburi
Gaafu Alifu Atoll is the Maldives' largest atoll is recognized for its gorgeous beaches, clean waters, and luxury resorts. It is a favorite honeymoon destination and for those looking for a deluxe vacation. Read more
18. Gaafu Dhaalu Atoll – Huvadhu Atholhu Dhekunuburi
Gaafu Dhaalu Atoll is noted for its pristine natural beauty, crystal-clear waters, and abundant marine life. It is a popular diving and fishing location. Read more
19. Gnaviyani Atoll – Foahmulah
Gnaviyani Atoll, also known as Fuvahmulah Atoll, is located in the Maldives' southernmost region. It is the only atoll that is not part of a larger group of islands and is considered an administrative division in its own right. The atoll is noted for its exceptional biodiversity, with over 70 endemic plant and animal species. Read more
20. Seenu Atoll – Addu Atholhu
Seenu Atoll, also known as Addu Atoll, is the Maldives' second-largest atoll and is located in the country's southernmost region. Visitors can explore the remnants of old Buddhist temples and traditional Maldivian residences on the atoll, which is famed for its rich history and culture. Seenu Atoll is also a renowned water sports destination, with various dive sites, surf areas, and kite-boarding destinations. Read more