Shaviyani Atoll
Shaviyani Atoll, also known as Miladhunmadulu Uthuruburi, is an administrative division in the Maldives' northern region. The atoll is made up of the northern section of the natural Miladhunmadulu Atoll, which is located in the country's north. Shaviyani Atoll is a well-known tourist destination due to its stunning natural beauty, clear turquoise waters, and thriving marine life.
The atoll is made up of 51 islands, 11 of which are inhabited and several of which are uninhabited. Funadhoo, the atoll's largest island, serves as the region's administrative center. Narudhoo, Maroshi, and Goidhoo are some of the atoll's other notable islands.
The atoll has a rich cultural history, with human settlements dating back to pre-Islamic times. The atoll was a major Buddhist center in the Maldives, and many ancient ruins and artifacts can still be seen today. During the 12th century, the atoll was converted to Islam.
The stunning coral reefs of Shaviyani Atoll provide some of the best diving and snorkeling opportunities in the Maldives. The atoll is home to a wide variety of marine life, including brightly colored tropical fish, manta rays, and sea turtles. The atoll also has several shipwrecks, providing divers with a unique opportunity to explore the remains of old vessels.
Aside from its natural beauty, Shaviyani Atoll provides a variety of tourist activities such as water sports, beach relaxation, and cultural tours. The atoll is home to several high-end resorts that provide visitors with luxurious accommodations and world-class facilities.
The atoll is easily accessible from Malé, the capital city, via several daily flights and speedboat transfers. Shaviyani Atoll is a must-see destination for anyone visiting the Maldives, with its pristine beaches, crystal-clear waters, and rich cultural heritage.
Resorts in Shaviyani Atoll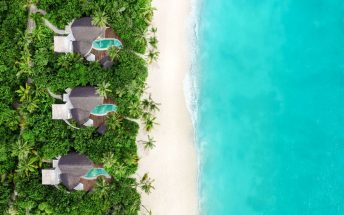 Vagaru
Shaviyani Atoll
215 km from Malé city
Resorts by Atoll