JW Marriott Maldives Resort & Spa
Vagaru

Shaviyani Atoll

215 km

86 Rooms
The JW Marriott Maldives, nestled among the pristine beauty of the Maldives, offers a captivating island retreat that combines luxurious accommodation, delectable dining options, and a variety of activities to create an unforgettable vacation experience. This exclusive resort in the stunning Shaviyani Atoll embodies the epitome of relaxation and indulgence, providing guests with an oasis of tranquility in the midst of paradise.
Accommodation
The JW Marriott Maldives has 60 exquisite villas, each of which is designed to provide guests with a luxurious and private sanctuary. Accommodation choices include: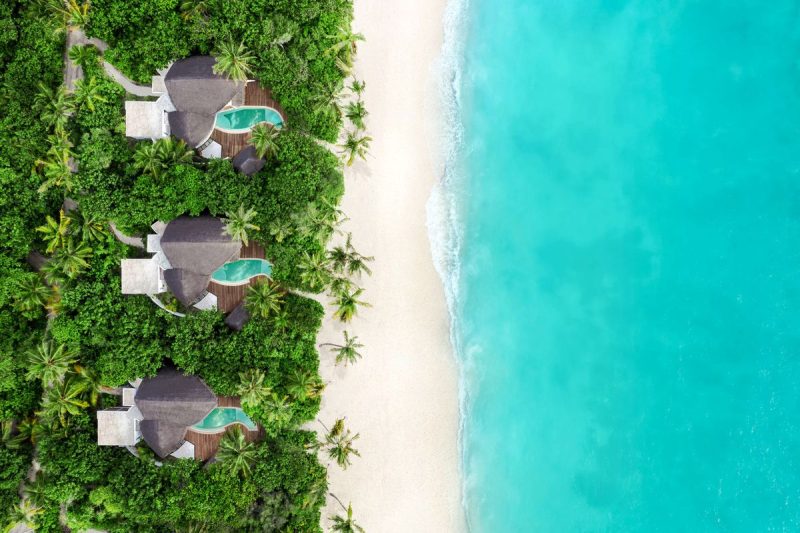 Overwater Pool Villa: These expansive villas are built over the turquoise lagoon and include a private pool, allowing guests to cool off while taking in the breathtaking views of the ocean.

Beach Pool Villa: The Beach Pool Villas are nestled along the pristine white sandy beaches and provide direct access to the crystal-clear waters. These villas have a private pool and a large outdoor deck, making for an ideal setting for relaxation.

Duplex Overwater Pool Villa: Ideal for families or larger groups, the Duplex Overwater Pool Villas feature two levels of luxurious living space. These villas provide both privacy and comfort, with a private pool, separate bedrooms, and expansive outdoor areas.
Duplex Beach Pool Villa: The Duplex Beach Pool Villas provide an exceptional retreat for guests seeking the perfect balance of beachfront living and indulgent amenities. These villas provide a tranquil escape with direct beach access, a private pool, and multiple outdoor lounging areas.
Restaurants
The JW Marriott Maldives offers a variety of world-class dining options, allowing guests to embark on a culinary adventure during their stay. Among the notable restaurants are: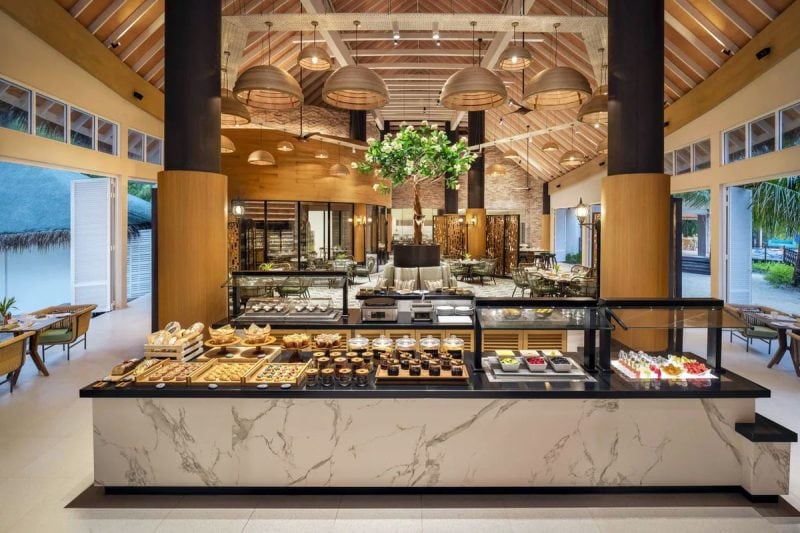 Aailaa: This restaurant serves a variety of international cuisines in a stylish and modern setting, showcasing flavors from around the world.

Fiamma: For those who enjoy Italian cuisine, Fiamma is a must-visit. Guests can savor authentic Italian dishes prepared with the finest ingredients while gazing out at the ocean.

Kaashi: At Kaashi, you can enjoy the vibrant and aromatic flavors of Thai cuisine. This restaurant serves a diverse menu of traditional Thai dishes prepared by skilled chefs.

Hashi: At Hashi, you can immerse yourself in the art of Japanese cuisine. Guests can enjoy a variety of exquisite Japanese delicacies in a refined setting, from sushi and sashimi to teppanyaki.

Shio: Indulge in a memorable dining experience at Shio, a grill restaurant where guests can enjoy expertly prepared grilled meats, seafood, and vegetables with a creative twist.

Horizon: Horizon serves international cuisine with a focus on fresh seafood and local ingredients in a relaxed and inviting setting. Guests can enjoy panoramic ocean views while sampling a variety of flavors.
Bars
The JW Marriott Maldives has two bars to suit the tastes of discerning guests: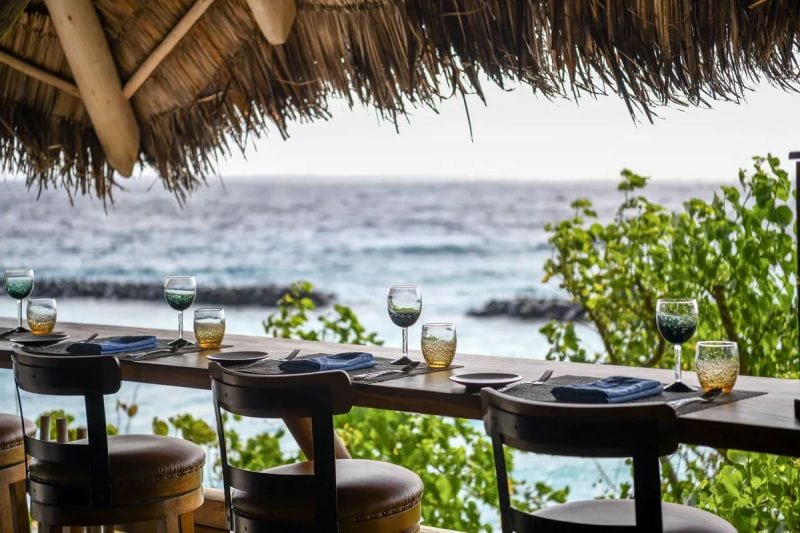 Wine Room: In the elegant and intimate Wine Room, wine enthusiasts can explore a diverse collection of wines from around the world, accompanied by gourmet snacks.
Rum Baan: Inspired by the rich history of rum, Rum Baan offers a wide range of premium rums, expertly crafted cocktails, and a laid-back atmosphere ideal for unwinding and enjoying the island vibes.
Activities
The resort offers a variety of activities and facilities to ensure that every guest has a memorable stay: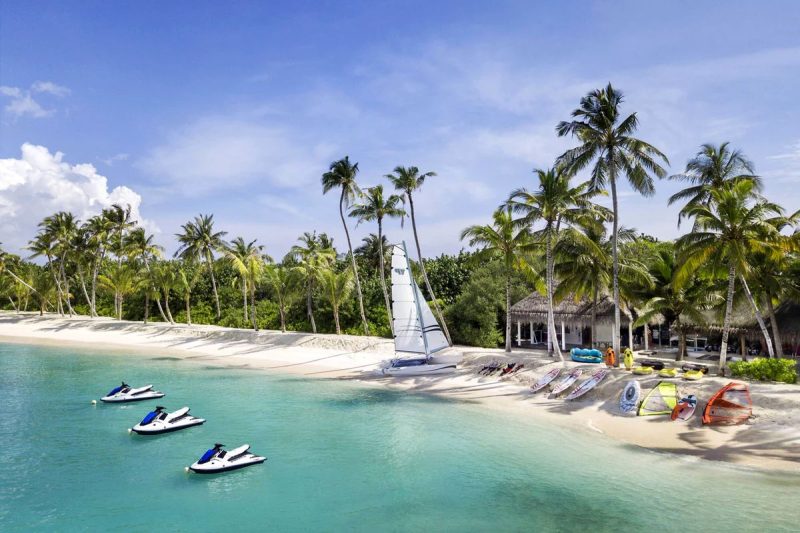 Fitness Center: Guests can keep up their workout routines in the state-of-the-art fitness center, which is equipped with cutting-edge equipment and provides panoramic views of the surrounding natural beauty.

Little Griffins Kids' Club: The Little Griffins Kids' Club is designed to entertain and engage young guests by providing a variety of supervised activities such as arts and crafts, outdoor adventures, and educational experiences.

Multipurpose Playground: The resort features a multipurpose playground where guests can enjoy a variety of recreational activities such as tennis, basketball, and volleyball, ensuring there is something for everyone.
Spa by JW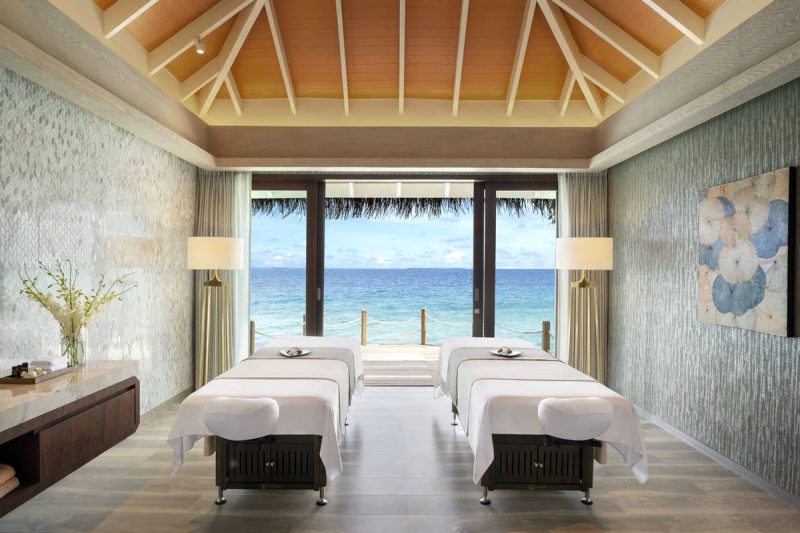 For the ultimate in relaxation and rejuvenation, guests can visit the Spa by JW, which offers a variety of holistic treatments and therapies. The spa provides a sanctuary of serenity, with a tranquil setting and expert therapists, allowing guests to unwind and pamper themselves amidst the breathtaking natural surroundings.
The JW Marriott Maldives is a luxurious and idyllic retreat where guests can immerse themselves in the Maldives' beauty while enjoying world-class amenities, exquisite dining options, and a variety of activities. This resort provides an unparalleled experience, leaving guests with cherished memories of their time in this tropical paradise, whether seeking a romantic getaway, a family vacation, or a rejuvenating escape.
Room Types and Facilities
Available Room Types: Bungalows, Water Bungalows, Villas
Room Facilities: Hot and Cold Water, Hair Dryer, Mini Bar, Internet, Tea / Coffee Maker, Private Pool
Resort Facilities
Swimming Pool, Spa, Internet / Wi-Fi, Business Center, Fitness Center, Dive Center, Restaurants, Bars, Play Ground, Hair Salon
Sports and Recreation
Scuba Diving, Windsurfing, Catamaran Sailing, Canoeing, Jet Ski, Badminton, Tennis, Beach Volley, Aerobics, Foot Ball, Excursion
Location on Map
Contact JW Marriott Maldives Resort & Spa
Vagaru Island
Shaviyani Atoll, Maldives, 40880

Toll Free:+960-654 6666


Email: [email protected]
Website: www.marriott.com/en-us/hotels/mlejs-jw-marriott-maldives-resort-and-spa/overview/