Faafu Atoll
Faafu Atoll, also known as Northern Nilandhe Atoll or Nilande Atoll North, is a Maldives administrative division. It is located in the country's center and corresponds to the same-named natural atoll.
The Faafu Atoll is made up of 23 islands, including Bandidhoo, one of the Maldives' largest uninhabited islands. The atoll's population is around 4,000 people. Magoodhoo, the atoll's capital, is located on the eastern side of the atoll.
The Faafu Atoll is well-known for its abundant marine life, and many divers and snorkelers visit the area to explore the area's colorful coral reefs and swim alongside exotic sea creatures. The atoll is also well-known for its beautiful beaches and clear blue waters, making it a popular tourist destination.
The Faafu Atoll has a long history and a rich cultural heritage. Certain atoll islands, such as Himithi, used to be inhabited, but the islanders were relocated to other islands so that Friday prayers could be held. Important archaeological discoveries have also been made on the atoll, with Buddhist remains discovered on some of the islands, including Fainu and Nilandhoo.
The 1573 wreck of the Kalhuohfummi off the southeast reef of Kolhuvaariyaafushi island is one of the most notable events in Faafu Atoll's history. The Kalhuohfummi was a Portuguese ship carrying a cargo of horses, and its sinking is considered one of the Maldives' earliest recorded shipwrecks.
The Faafu Atoll can be reached by seaplane or speedboat, with regular flights and boats departing from Malé, the capital city. Swimming, snorkeling, diving, fishing, and exploring the local islands and cultural sites are among the activities available to visitors on the atoll.
Faafu Atoll in the Maldives is a beautiful and culturally rich destination with a unique blend of natural beauty, history, and modern amenities.
Resorts in Faafu Atoll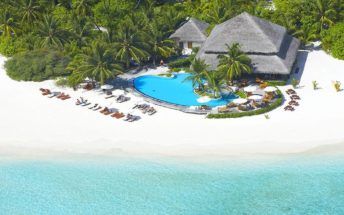 Filitheyo
Faafu Atoll
120 km from Malé city
Resorts by Atoll