Raa Atoll
Raa Atoll, also known as Northern Maalhosmadulu Atoll, is a Maldives administrative division. Northern Maalhosmadulu Atoll proper, as well as the islands of Alifushi and Etthingili, are located in the northern region of the Maldives on a detached reef with deep waters between the faru and the northern end of the main atoll. Ungoofaaru is the capital of Raa Atoll.
The atoll is home to a diverse range of marine life, making it a popular tourist destination for those looking to explore its coral reefs and participate in water sports such as diving, snorkeling, and surfing. Marine life such as manta rays, turtles, and whale sharks can be found in the waters surrounding Raa Atoll.
Raa Atoll is also a Maldives cultural center. Visitors can learn about the Maldives' unique cultural heritage by visiting traditional fishing villages and participating in local arts and crafts such as mat weaving and lacquer work. Several historical sites, including the Muriyad Mosque and the Raa Atoll Cultural Centre, can also be found on the atoll.
The capital of Raa Atoll, Ungoofaaru, is a vibrant community with a rich history and culture. The island is home to a number of significant historical sites, including the Ungoofaaru Tomb, which is thought to be the final resting place of a legendary Maldivian warrior, and the Ungoofaaru Bodu Beru Cultural Centre, where visitors can learn about the traditional Maldivian drumming and dance known as Bodu Beru.
Raa Atoll also has several luxury resorts where visitors can relax and unwind in a beautiful natural setting. These resorts offer world-class amenities and facilities, such as spa services, fine dining restaurants, and private villas with spectacular views of the Indian Ocean.
Raa Atoll is a stunning destination that allows visitors to experience the Maldives' natural beauty, rich culture, and unique history. Raa Atoll is a Maldives gem, from its vibrant community and cultural heritage to its pristine beaches and diverse marine life.
Resorts in Raa Atoll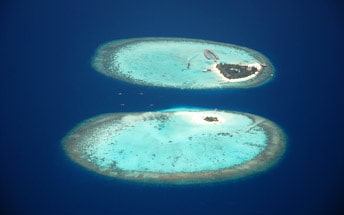 Meedhupparu
Raa Atoll
130 km from Malé city
Resorts by Atoll