Noonu Atoll
Noonu Atoll, also known as Southern Miladhunmadulu Atoll, is a Maldives administrative division. It is located in the Maldives' northern region and is part of the larger Miladhunmadulu Atoll. Manadhoo is the capital of Noonu Atoll.
The atoll is made up of 71 islands, 13 of which are inhabited, and has a total land area of about 203 square kilometers. Velidhoo, the largest island in Noonu Atoll, has a population of about 1,800 people. Holhudhoo, Kudafari, Maafaru, and Miladhoo are some of the atoll's other inhabited islands.
Noonu Atoll is well-known for its stunning natural beauty and pristine beaches, making it a popular tourist destination. It also has a diverse marine life, such as colorful fish, dolphins, and sea turtles. The surrounding waters are ideal for snorkeling, diving, and other water activities.
The Baraveli Kandu, which translates to "hermit crab channel" in Dhivehi, is a popular diving spot in Noonu Atoll. The channel is teeming with marine life, including sharks, rays, and schools of fish. The channel is also known for having strong currents, which makes it a difficult dive site for experienced divers.
Noonu Atoll's economy is heavily reliant on tourism and fishing. Many locals work in the tourism industry, primarily in hotels and resorts on the islands. Traditional crafts on the atoll include lacquer work and mat weaving.
Noonu Atoll is easily accessible by seaplane or speedboat from Male, the Maldives' main international airport. There are several resorts and guesthouses on the islands of Noonu Atoll, providing visitors with a variety of lodging options.
Noonu Atoll in the Maldives is a beautiful and idyllic destination known for its stunning natural scenery, diverse marine life, and thriving tourism industry. Noonu Atoll has something for everyone, whether you want a relaxing beach vacation or an exciting diving adventure.
Resorts in Noonu Atoll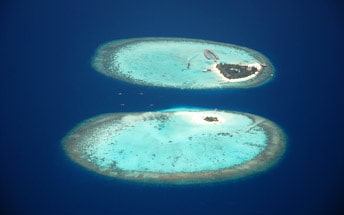 Medhafushi
Noonu Atoll
91 km from Malé city
Resorts by Atoll