Maldives map and geographic location
The Maldives can be found on a map by looking for the equator, which is a line of latitude that circles the Earth at 0 degrees. The Maldives are located near the equator, between latitudes 4 and 8 degrees north and longitudes 72 and 74 degrees east. India and Sri Lanka are the country's nearest neighbors, located to the north and northeast, respectively.

Location of Maldives on World map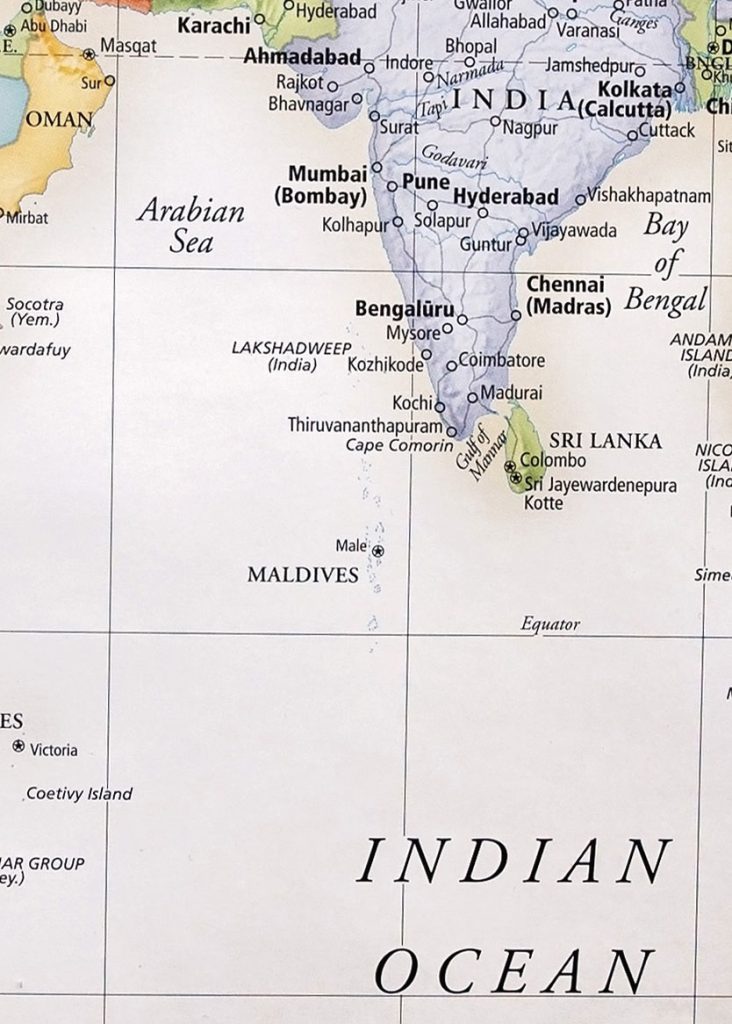 Maldives Geography
The Maldives is an Indian Ocean tropical paradise made up of 26 atolls and over 1,000 coral islands. Its equatorial location makes it a great destination for year-round sunshine, and its breathtaking beauty draws visitors from all over the world.
The country has a land size of around 90,000 square kilometers and is Asia's smallest in terms of both land area and population. Despite its small size, the Maldives has a rich cultural and historical heritage, with influences from India, Sri Lanka, and the Arab world. The official language of the country is Dhivehi, however English is commonly spoken and understood, particularly in tourist regions.
The Maldives is a one-of-a-kind and magnificent island nation in the Indian Ocean, with stunning natural beauty and a rich cultural legacy. Its geographical location makes it a great destination for people looking for a tropical paradise retreat with a choice of water sports and beach activities.
Coordinates:
between 7° 6′ 35″ and 0° 42′ 24″ south and between 72° 33′ 19″ and 73° 46′ 13″ east of Greenwich
Exclusive Economic Zone (EEZ):
359,00sq km
Total area:
118, 000 sq km (land = 298 sq km)
Number of Islands:
1,192 islands (inhabited = 199; uninhabited = 993) The islands are grouped into 19 natural atolls – divided into 20 for administrative purposes

Capital:

Malé
Population = 142,909 (2017)
Area –

9.27 square kilometres

Terrain:
Low lying small islands with flat terrain (average 1.2m above sea level)
Climate:
Sub-tropical, with two monsoons, hot, humid and dry in northeast monsoon (November to March) and rainy in southwest monsoon (June to August) Sun shines all year through. Average temperature around 29 – 32 degrees Celsius. Generally warm and humid.
Maldives Atolls
The Maldives is made up of 26 natural atolls divided into 20 administrative atolls. These atolls are essentially a ring-shaped collection of coral islands that encircle a central lagoon.
Each atoll is made up of several tiny islands that are typically only a few meters above sea level, and the Maldives has over 1,000 coral islands, with approximately 200 of them being inhabited. The islands are made of coral, which is formed over millions of years by the accumulation of the remains of marine organisms.
The Maldives' atolls are unique in that they were formed by the gradual sinking of an ancient volcano. As the volcano sank, coral began to grow on top of it, eventually forming the ring-like structures seen today. The islands are constantly changing as a result of the effects of wind, waves, and ocean currents, and the coral reefs that surround them are home to a diverse range of marine life, including tropical fish, sharks, and sea turtles.
The atolls are scattered throughout the Maldives, each with its own distinct personality and charm. Some are more developed and cater to tourists, whereas others are undeveloped and provide a glimpse into traditional Maldivian life. The atolls also have a number of resorts and hotels, many of which are located on their own private islands and provide activities such as snorkeling, diving, and water sports.
The Maldives' atolls are a distinct and beautiful feature of the country's geography, and they play an important role in Maldivian culture.
North Male Atoll, South Male Atoll, Ari Atoll, and Baa Atoll are among the most popular atolls in the Maldives. The North Male and South Male Atolls are close to Male, the capital city, and are home to many of the Maldives' most well-known resorts. The Ari Atoll is well-known for its excellent diving and snorkeling, whereas the Baa Atoll is a UNESCO Biosphere Reserve known for its diverse marine life and natural beauty.
Each atoll in the Maldives has its own distinct personality, and visitors can select from a variety of activities and experiences such as snorkeling, diving, island hopping, and cultural tours.
With its crystal-clear turquoise waters, white sand beaches, and abundant marine life, the Maldives is a tropical paradise. Because of its location in the Indian Ocean, the country is a great destination for beach-goers and water sports enthusiasts. It is a popular scuba diving and snorkeling destination, having some of the most beautiful coral reefs and marine life in the world.