Sea of Stars – A Magical Experience in the Maldives
The Maldives is a paradise on Earth, and the stunning beauty of its 1200 islands is unparalleled. But something even more spectacular, mysterious and romantic takes place on these islands in the Indian Ocean: the glowing and sparkling Sea of Stars. This natural phenomenon of bioluminescence is caused by millions of tiny phytoplankton that light up when disturbed, creating an enchanting blue-green hue across the sea.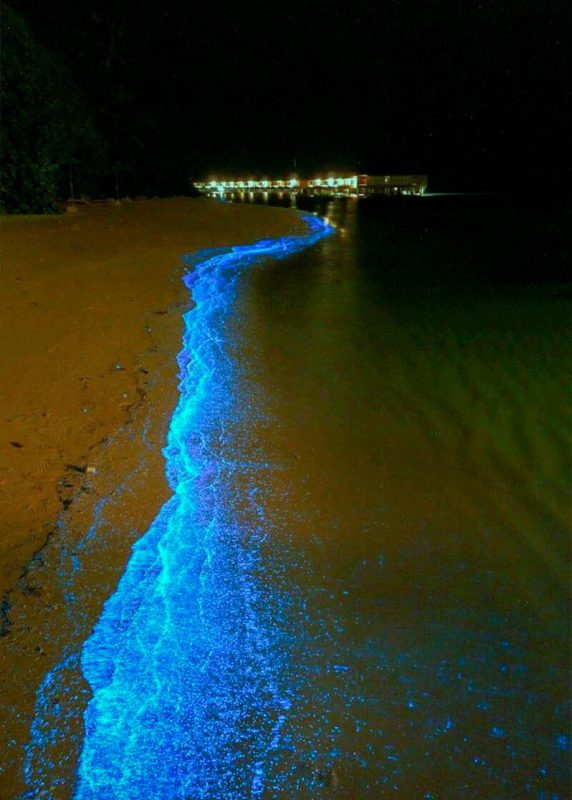 The Sea of Stars is a rare and remarkable occurrence that has been captivating visitors to the Maldives for many years. This natural phenomenon occurs when microorganisms in the water – known as phytoplankton – emit blue-green light, by a chemical reaction in their bodies. The combination of millions of these tiny organisms creates an awe-inspiring light show that resembles a sea of stars. It's amazing and magical! It looks like stars twinkling in the water.
Vaadhoo Island in the Maldives is a renowned spot to see the Sea of Stars phenomenon. At night, the waters around the island are illuminated by bioluminescent phytoplankton, creating a stunning visual display where the shorelines and waves emit a mesmerizing glow.
But there are many other places in Maldives where one can experience this incredible phenomenon. From resorts to less-known locations, here's a comprehensive guide to exploring the best spots for witnessing the Sea of Stars in the Maldives.
Resorts with Spectacular Views
Maldivian resorts offer some of the most breathtaking views of the Sea of Stars. One such resort is Soneva Fushi, located on Kunfunadhoo Island in Baa Atoll. Here you can enjoy a luxurious stay while admiring the shimmering waters from your private beach villa or overwater bungalow. The resort also offers various activities such as snorkeling and kayaking that enable you to get closer to nature and explore its wonders at night.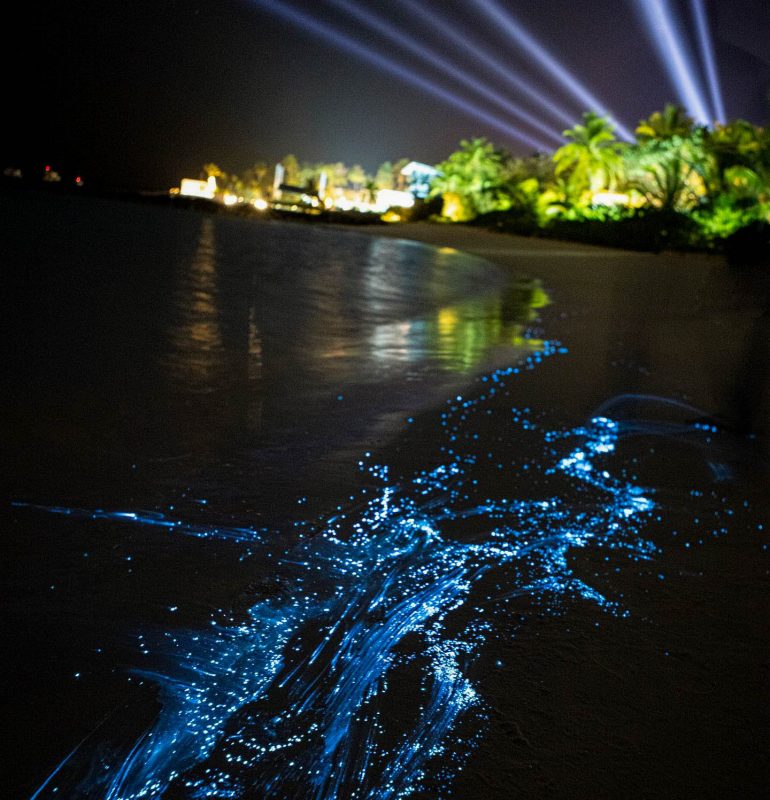 Another great option is Anantara Dhigu Resort & Spa, located on Dhigufinolhu Island in South Male Atoll. With its white sandy beaches and crystal clear waters, it's no wonder why this resort has become so popular among travelers looking for a romantic getaway. You can take a boat ride around the island at night and witness an unforgettable show put up by nature itself – millions of stars twinkling in the sea!

Unspoiled Beaches
If you're looking for something more offbeat then head over to some of Maldives' lesser-known beaches that offer equally stunning views without all the crowds. One such beach is Maafushi Beach on South Male Atoll which offers a quiet atmosphere perfect for stargazing at night. You can also take part in various water sports activities such as diving or snorkeling during day time and explore colorful coral reefs teeming with life beneath the surface!
Another great spot is Fulhadhoo Beach on Baa Atoll which boasts powdery white sand and shallow turquoise waters ideal for swimming or simply relaxing under a palm tree with your loved ones while watching out for bioluminescent plankton lighting up your surroundings!
Local Experiences
Apart from resorts and beaches, there are several local experiences that will give you an even better insight into this natural phenomenon. For instance, if you want to explore some hidden gems then head over to Kudahuvadhoo Island where you can take part in traditional fishing trips with local fishermen who will show you how they use lights from their boats to attract fish during night time – creating an amazing spectacle similar to what happens when bioluminescent plankton light up!
You can also visit Hanifarubay at baa atoll which is home to whale sharks and manta rays – one of Maldives' most famous snorkeling sites where manta rays come close enough to observe them closely at night when they feed on plankton illuminated by moonlight!
Conclusion
Exploring the glowing beaches in the Maldives is a truly magical experience that you won't soon forget. Whether it's swimming with bioluminescent plankton, or snorkeling with whale sharks and manta rays at night, there are plenty of amazing opportunities to witness this natural phenomenon firsthand. So why not take advantage of them while they last? Book your trip today and let yourself be immersed in one of nature's most stunning displays.
The Sea of Stars phenomenon can vary in intensity and visibility depending on factors such as time of year, weather conditions, and water quality. If you're fortunate enough to see it, it can be a magical and unforgettable experience.