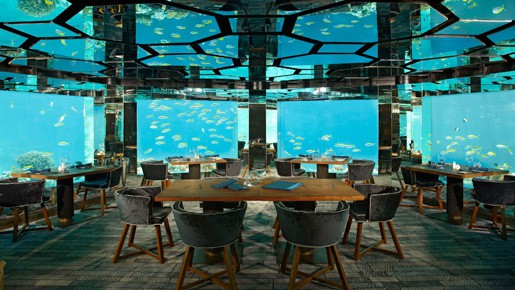 Sea, Fire, Salt, Sky, are words that may bring many things to mind. However, these words at the Anantara Kihavah Villas realize the signature culinary experience at this underwater/over water restaurant and wine cellar. Not only will diners be able to delight in a variety of different culinary creations, but they will be able to choose from four different venues. Check out the different menus and locations for the Sea, Fire, Salt, and Sky venues to determine the one you want to try first. Of course, if you are adventurous and enjoy fine dining try a different venue each night! Each venue corresponds to its name in some way so you can imagine that "Sea" is underwater with amazing views of marine life while "Salt" offers diners 19 salt varieties and a Salt Sommelier to help them choose to right seasonings.
At the Anantara Kihavah under and over water restaurant diners will be treated to amazing culinary feats with each course that is served. There is also an underwater wine cellar that will please any wine connoisseur with its 250 wine varieties from more than 14 countries. Enjoy wine by the glass and bottle.
If you are planning a holiday to Maldives then make sure a visit, or more, is on your itinerary to this restaurant. You want to experience all that Sea, Fire, Salt, and Sky have to offer and your taste buds will thank you!