Maldives Tourism Promotion Board participated for the first time at the 13th annual Unique Choice Road Show held in 6 cities of GCC countries namely Abu Dhabi, Dubai, Doha, Dammam/Al-Khober, Riyadh, Jeddah from 30th May till 3rd June 2009.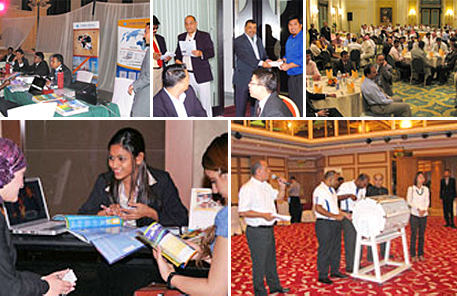 Unique Choice group is identified as one of the top wholesale tour operator in the Middle East region. These workshops are marked as one of the important events each year due to its success targeting tour operators/ travel agents in the GCC region. The main objectives of Maldives participation in the road show was to increase market share from the Middle East countries by providing the travel trade with the most updated tourism information on the Maldives and secure commitments for the future promotions of the Maldives among their clients. Furthermore, to ensure that as many travel agents and tour operators as possible have the tools they need to be able to effectively promote Maldives island resorts.
The workshops started in Abu Dhabi on the 30th May, with a networking session followed by a lunch at the Crowne Plaza in Abu Dhabi. More than 50 travel agents and tour operators were invited to the work shop, while majority of the visitor showed a keen interest in visiting the Maldives booth to collect information. Emphasis was placed on the warm welcome that GCC nationals and resident expatriates will receive when visiting the islands and the easy accessibility to the country in terms of flight connections and visa procedures.
The Maldives is currently the ultimate getaway for those who are attracted by private islands, stunning beaches and crystal clear waters. The Maldives provides the perfect backdrop for a relaxing, rejuvenating holiday, which is a welcome contrast to the frantic pace of life in the Arabian Gulf.
The workshop session was concluded by a raffle draw held among the visitors by giving away several free vacation prizes from the participating hotels/resorts. Among other participants include destination such as Malaysia, Singapore, Oman and a collection of resorts/hotels from these destinations.
Similar format was adopted for the event in Dubai on the same day, where more than 75 travel agents and tour operators were invited to the JW Marriot Hotel in Dubai which was concluded by a dinner.
Last year Maldives welcomed a total of 683,012 visitors while a total of 9,141 tourists represented the Middle East region. By end of May 2009 Maldives received 3,082 tourists from the region showing a growth of 2.5 per cent compared to the same period of 2008.