Maldives has yet again won another prestigious award, the Daily Telegraph's Ultratravel Award for Best Holiday Destination Worldwide.
The ULTRAs (Ultimate Luxury Travel Related Awards), celebrating the best in luxury travel across the globe, were announced at a ceremony held at InterContinental London Park Lane Hotel on 9th of May 2007. On behalf of the tourism industry of the Maldives the award was received by High Commissioner of Maldives to UK and Northern Ireland, His Excellency Mr Hassan Sobir.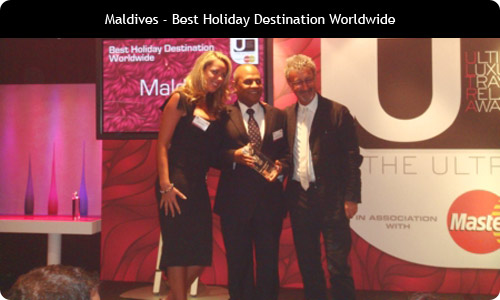 Ultratravel magazine, published with the Daily Telegraph, was first launched in autumn 2004 and has a circulation of 500,000 readers.
The ULTRA awards were selected based on votes casted by the readers of the UltraTravel magazine over a period of more than 12 months. The ULTRAs consisted, in addition to best holiday destination, the best in airline, airport, tour operator, cruise company, spa, ski resort and hotel.
To win this award Maldives competed with popular destinations such as New Zealand, Australia, South Africa and Thailand.
END.
For further information, please contact:
Vanessa Evans / Natalie Amos
McCluskey International – PR Representative for MTPB in UK
Tel: 0208 237 7979
Email: [email protected] / [email protected]