Conrad Maldives Rangali Island's underwater restaurant is rated the 'Most Beautiful Restaurant in the World' by New York Daily News
Ithaa Undersea Restaurant at Conrad Maldives Rangali Island has been awarded the 'Most Beautiful Restaurant In the World' by the New York Daily News. Ithaa was selected as the "most beautiful dining destination on the planet" for its "stunning, unparalleled views". Guests dine under a ceiling made of transparent acrylic that offers panoramic 180-degree views where schools of rainbow-coloured, tropical fish and sharks glide overhead as guests tuck into dishes such as caviar, duck agnolotti and Maldivian lobster carpaccio.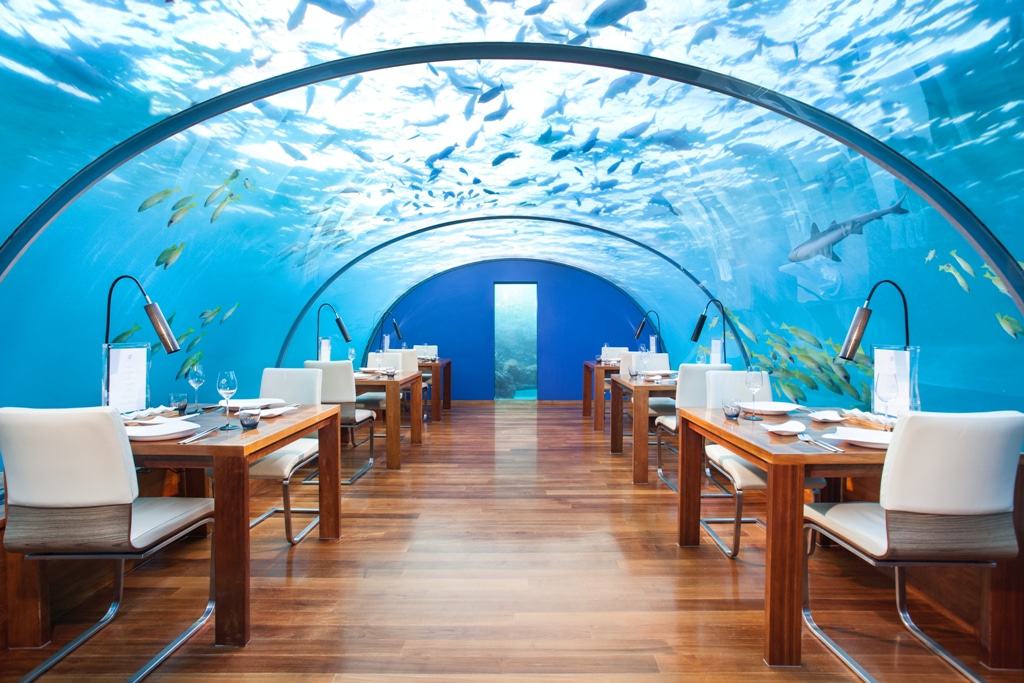 While compiling the list, editors looked at "restaurants that had won awards and accolades for their design, the clout of the designer, location, and the destination's overall reputation, be it from reputed sources like the Michelin guide or press reviews".
Chef Ayyoub Salameh, who created the outstanding menu at Ithaa, was delighted at the recognition his signature restaurant has received, saying, "I think of my food in musical terms: I want diners to be able to hear the music of the food. I hope it brings a smile to their face. Ithaa is a very romantic place and I hope the food we've created create a talking point between the two diners at the table. Don't be shy: although I may not be there at the table, I'm speaking to the diners through the food. If they can feel that, then I think the meal has been a success."
For further information on the resort visit www.conradmaldives.com
Facebook: /ConradMaldivesRangaliIsland
Twitter: @ConradMaldives