Oman Air the newest entrant to the Maldivian skies will commence operations on the 24th with 04 weekly flights to Male, with convenient connections to the Gulf, Middle East and Europe.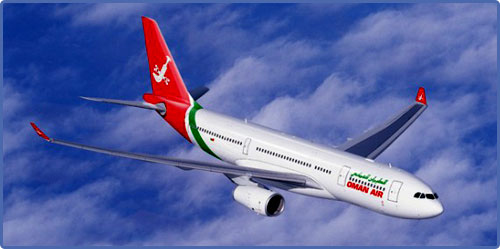 Oman Air, the national carrier of the Sultanate of Oman, offers an outstanding First and Business Class product, excellent services and a modern fleet; positioning itself as a boutique airline in the premium segment.
"We are very excited about commencing operations in Maldives. It will open up new opportunities for people travelling between Muscat and Maldives, and will soon prove to be a winner for both business and leisure customers," said Mr. Peter Hill, Chief Executive Officer, Oman Air.
Oman Air, the flagship company of the Sultanate of Oman's Civil Aviation sector, commenced operations in 1993. Starting off as a regional player, Oman Air, as Oman's national carrier has witnessed rapid growth since then.
"Oman Air's entry into Maldives comes at an opportune time, As a full-fledged commercial airline, Oman Air has always maintained high performance standards, and will continue to do so. Our flights to Maldives also offers passengers the most modern and fuel-efficient aircrafts with aesthetically designed interiors," said Mr. Gihan Karunaratne, Country Manager – Sri Lanka & Maldives, Oman Air.
Oman Air currently operates direct international flights from its hub in Oman, Muscat to Gulf destinations such as Abu Dhabi, Bahrain, Doha, Dubai, Jeddah, Kuwait and Riyadh. In the subcontinent to: Mumbai, Chennai, Kochi, Thiruvananthapuram, Hyderabad, Delhi, Lucknow, Bangalore, Kozhikode, Jaipur, Chittagong and Karachi; flights to the UK and Europe include London, Frankfurt, Munich and Paris, Far East includes Bangkok and in the Middle East to Cairo, Beirut and Amman. Oman Air also operates domestic flights from Muscat to Salalah and Khasab.
Ultra-modern in-flight service equipment is deployed onboard to improve safety and overall performance. Investment in new technology, planning and product innovation has propelled Oman Air to the forefront of the aviation industry.
Oman Air stands tall with a list of achievements to its credit. It is the first airline in the Gulf to introduce the brand new Boeing NG 737 aircraft series. Oman Air's safety record is a matter of pride and also boasts excellent on-time performance – OTP exceeding 95%.
Oman Air strives hard to enhance products in terms of convenience, efficiency and service so that flying is consistently an enjoyable experience. Achieving and maintaining internationally recognized standards of quality and safety is a continuous and uncompromising process in every department of Oman Air.