BANYAN TREE MALDIVES MADIVARU SETS NEW LUXURY ACCOMMODATION STANDARDS IN INDIAN OCEAN
Banyan Tree Maldives Madivaru sets unprecedented standards of luxury accommodation in Maldives. Madivaru island features a pristine white sandy beach, a beautiful lagoon and is surrounded by breathtaking house reefs, where guests can expect a high level of privacy coupled with the finest service yet in the quintessential Banyan Tree experience.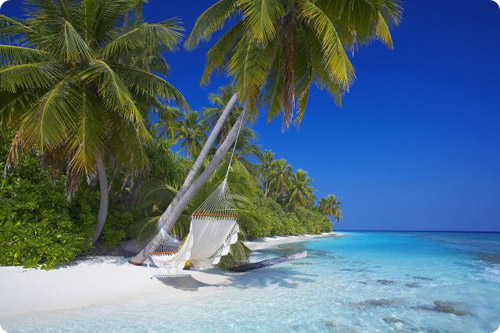 The resort features an exclusive cluster of freestanding Tented Pool Villas – the first of its kind in Maldives. It boasts inspired desert island décor with timber flooring, two outdoor showers, handcrafted wood furniture and luxurious tent canopies. Meals and scheduled excursions are all-inclusive, ensuring that guests enjoy the very best of fresh catches and marine activities. Island Hosts are available around the clock to ensure that guests want for nothing.
The resort features six Tented Pool Villas priced from US$3900++ per night. To mark its opening, the resort is offering 50% savings on accommodation, 25% savings on seaplane transfers, in-villa couple spa treatment, complimentary meals and selected beverages, and scheduled marine excursions on the Banyan Madi. This promotion is valid from 1 July to 31 October 2007 with minimum three nights' stay.
Marine Exploration
Madivaru island is a gem in the sparkling North Ari Atoll, which features pristine white sandy beaches, a beautiful shallow lagoon and breathtaking house reefs surrounding the island, where guests can expect marine adventures led by experienced Banyan Tree dive experts. Regularly scheduled excursions on the Banyan Madi include sunset cruises, morning and night fishing, dolphin safari, and manta sighting cruises.
Spa Appreciation
The Banyan Tree Spa experience is conducted in-villa for the ultimate island indulgence. Side-by-side treatment beds in the bath tent are transformed into an oasis of calm as guests receive facials or massages in the privacy of their own environment.
For a take-home spa experience, one can purchase signature Banyan Tree Spa amenities like oil burners, essential oils, and Spa-inspired body and hair care collections from Banyan Tree Gallery. This lifestyle retail outlet also offers exquisite Maldivian crafts and stylish beach apparel.
Satisfy The Senses
Designed to provide guests with the ultimate private retreat, Banyan Tree Maldives Madivaru also features Boa Keyo, an all-day dining restaurant and a bar lounge. These dining facilities complement the in-villa dining options available to guests who wish to enjoy Maldivian epicurean delights and seafood bites in the privacy of their tented accommodation.
Banyan Tree Maldives Madivaru will also provide unique dining experiences upon request. These memorable settings include sandbank dining, sharkpoint dining and dinner onboard the Banyan Madi.
With an established reputation in the Maldives, Banyan Tree has created an exclusive island sanctuary that will touch the senses of its guests.
For reservations, please contact Banyan Tree Maldives Madivaru at +960 666 0760, or Banyan Tree Main Reservations at +65 6849 5800. One-stop reservations at the best rates can be made on the award-winning website, www.banyantree.com.