A timeless moment in the Maldives
The perfect moment begins with the perfect setting. A private tropical island. Powder-white sands. The beauty of the Maldives. Naladhu.
Free-flowing spaces. A symphony of rolling waves and rustling palms. The feel of warm, turquoise-blue lagoon waters and exotic Indian spice rubs. The familiar cool of hardwood floors and goose-down pillows. White clapboard shutters and infinity-edge plunge pools. The comforts you know and love. The romantic island getaway you've imagined.
More than a holiday, more than a resort. A collage of perfect, timeless moments in the Maldives.
Naladhu Bonus Night Offer (Stay 6, pay 5) Book Now
Story
On a tranquil palm-covered atoll surrounded by a coral lagoon, Naladhu – Maldivian for "beautiful island" – offers a mosaic of timeless moments of seclusion and serenity.
Naladhu is designed to be as familiar as a favourite vacation home by the sea. In its soul is the spirit of the local Maldivian culture, drawing on the rich traditions of the islands. It is a place where everything is as it should be, where everything is familiar – not because you've been here before, but because it is just as you'd imagined it to be.
Every Naladhu moment is an experience to treasure – an immersion in comfortable elegance that never goes out of style.
Come with us, and create your own timeless moments…
Houses
Free-flowing spaces that allow you to drift – at your own pace – from one perfect moment to the next. Each of Naladhu's secluded houses incorporates timeless design, idyllic views and a feeling of home.
Your private house is appointed with elegant hardwood furnishings that hearken back to a romantic, bygone era, with touches of contemporary style. With natural fluidity, the living area gives way to a spacious, cool-toned open-air bathroom. Soak in a romantic outdoor bath or feel the interplay of fresh air and soothing water in an open-air shower. Unwind at the end of the day in your house's own private steam room.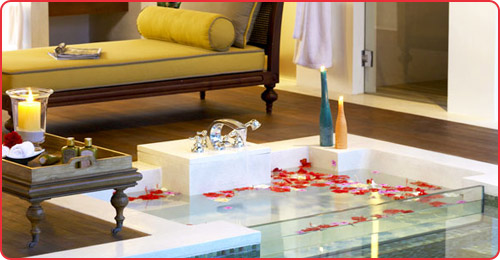 Outside, hardwood decks and a private infinity-edge pool offer the perfect vantage point for stargazing or toasting a picture-perfect Naladhu sunset. Inside, your Naladhu house is your private sanctuary, equipped with all the modern luxuries and familiar comforts you deserve. Every house is outfitted with wi-fi capabilities to keep you connected to loved ones back home, while a Bose home surround theatre system and LCD satellite TV are the perfect accompaniment to laid-back evenings at home. Create the perfect soundtrack to each moment with an in-room Ipod and CD player.
At night, the sublime feather mattress and 300-thread count cotton bed linens coax the sweetest of dreams, as you fall asleep to the ebb and flow of the Indian Ocean just steps away.
Meanwhile, to help make every moment all the more perfect, your house's own House Master is always available to cater to every whim and is attentive to every detail that matters to you. From your favourite type of flower to your favourite midnight snack, your favourite scented soap or a fondly remembered novel, you will love being treated to all your treasured favourites – and introduced to new ones with a Maldivian twist.
Diversions
At Naladhu, the day is your canvas. We provide a palette of local colours. You create the masterpiece.
Some of Naladhu's best views can be found below the surface. Our on-site PADI Dive Centre offers a full range of courses – from first-timer to fanatic – to help you explore one of the world's premier diving destinations.
Or, if you'd prefer to stick to the surface, enjoy an afternoon of windsurfing, kayaking, snorkelling, deep-sea fishing or sailing to deserted islands off the horizon. For a true adrenalin rush and the ultimate view, nothing beats a seaplane adventure. Soar over this resplendent island paradise and touch down to discover some truly off-the-beaten-path destinations.
In search of local colour? Let a motorboat whisk you away for a day of shopping in the bustling markets of Malé, one of the world's most unique capital cities. Or, unwind on the decks of a luxurious dhoni, the traditional Maldivian sailboat. Cruise at your whim or picnic on a completely deserted island. Return just in time to enjoy the perfect Naladhu sunset from your private plunge pool.
Back on the island, Naladhu also features a fully equipped air-conditioned fitness centre and beachfront lap pool. Our on-staff yoga and meditation instructors can help you elevate your state of mind through individual guided sessions or organised group classes.
Rejuvenation
As the perfect Naladhu day winds down – or, as the perfect beginning – nothing beats unwinding in the privacy of your house with your choice of in-room spa therapies designed to pamper your body and restore your soul. Our international team of expertly trained therapists are skilled in providing therapies that draw from the timeless wisdom of the ages and the best of contemporary holistic practices. Allow them to personalise the perfect treatment for the perfect moment.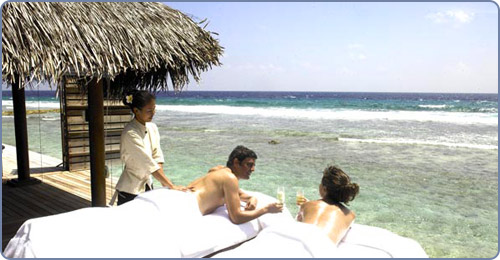 Inspired by the rich natural traditions of the islands and surrounding ocean, a range of luxurious spa therapies are available to unwind the mind and spirit. Four-hand massage, herbal steam and al fresco flora bath are just a few. You'll discover the rest.
Choose where you want to get pampered. The comfort of your spacious bedroom. Your sun-bleached deck as twilight falls. At Naladhu, relaxation is never more than a few steps away.
Setting
Most dream of it. Few actually realise it. The fantasy of an exclusive, private island getaway is as timeless as Naladhu itself.
Set on Velighandu Huraa in the South Malé Atoll, Naladhu is the realisation of this dream. The azure waters of the Indian Ocean. The powder-fine white sand of a desert island beach. The spectrum of greens in a tropical coconut grove. It's just as you'd imagined it would be.
And while the secluded beauty of our coral-fringed island, set in its own emerald lagoon, is the main attraction, the journey to Naladhu enhances the story.
Your personal House Master will await your arrival at Malé International Airport. After a warm welcome, your House Master will guide you to a private luxury boat. Seasonal cocktails and snacks, an Ipod and sound system with your favourite music are among the elegant trimmings that surround you as you are whisked to your personal paradise.
The 13-kilometre ride to Naladhu takes approximately half an hour. But with every comfort available, you'll feel at home even before you reach your Naladhu house.
For more information please visit www.naladhu.com
Naladhu Bonus Night Offer (Stay 6, pay 5) Book Now