Kurumba Maldives will be celebrating its Ruby Birthday by holding 40 activities in 2012. These activities will align with current Corporate Social Responsibility projects as well as celebrating past guests, previous challenges and successes. A formal black tie dinner will be hosted on the 3rd October 2012 with a number of celebrities, media, key past guests, owners, personalities and staff all on the invite list. During the evening there will be presentations and evening entertainment.
Kurumba was constructed in 1972 on the uninhabited island of Vihamanafushi. The concept was simple and back to nature using coral stones, this being a common material for building houses in the Maldives in the 1970's, which were collected from the surrounding reefs. The roof was covered with thatch and coconut timber was used as beams and columns. Two small generators provided electricity and meals were served in the small restaurant, which was sufficient for 60 guests. Local staff, without formal training, were employed throughout the resort.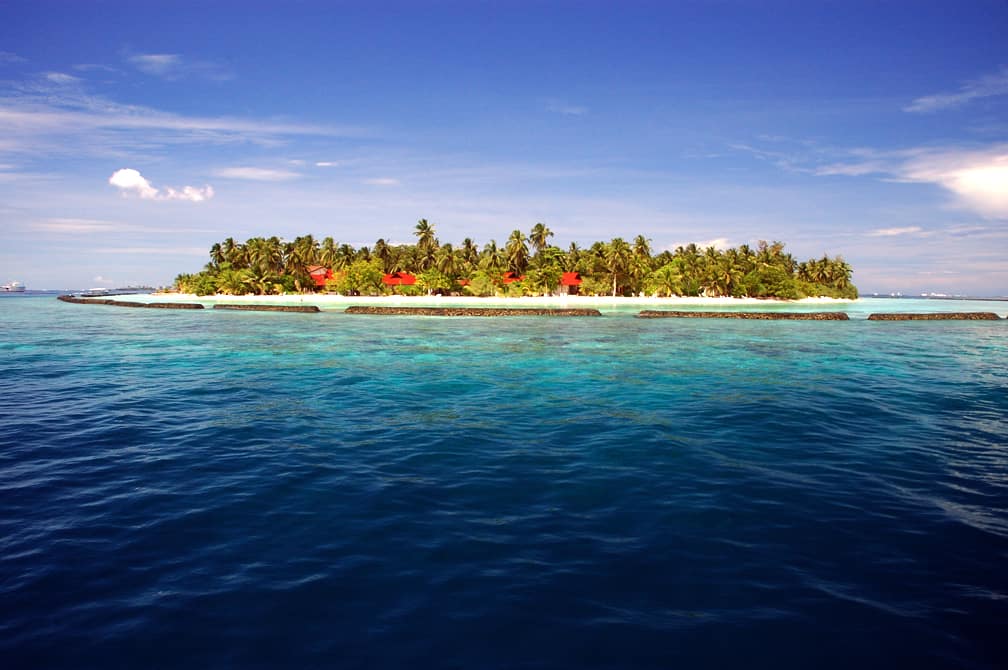 According to the Maldivian entrepreneurs, construction was nevertheless a laborious task with the limited facilities available at that time. National infrastructure was at its lowest level and the country was just recovering from the impacts of the Second World War. "I was cook, gardener and room boy. We had to do everything ourselves," explained Mr. Maniku. "We had nothing in the Maldives then, nothing. No Banks, no airport, no telephones only ham radio or Morse code with Colombo. Even the UNDP experts said that tourism would never succeed because there were no facilities, no infrastructure."
The 30-room Kurumba Village was opened on 3rd October 1972 as the first ever Maldivian resort of the fledgling industry. Kurumba has now been upgraded in different phases after it's opening, the major renovation being done during the 90's. Presently the resort is 180 rooms which includes a Royal Residence, Presidential Suites and Pool Villas all the way through to the lead-in Superior rooms. Kurumba Maldives today is still evolving and is proud of being a pioneer in the Maldives and a part of living history.
Throughout the year, Kurumba Maldives will hold events to mark this momentous occasion as well as preparing a coffee table book showcasing the history of Kurumba Maldives.
Kurumba Maldives will also be running a photo competition, with a main prize of a 7 nights stay for two persons in a Pool Villa, daily Champagne breakfast, lunch and Dinner in Vihamana, return airport transfers, a sunset cruise and two signature Veli Spa treatments. Please see www.facebook.com/kurumbamaldives
or more details.
Special packages for this week will be available by contacting [email protected]
40 activities to celebrate 40 years in 2012
January, 10 – Rescue swimming Diploma completion for staff
February, 6 – Maldivian Management Trainees signing ceremony
February, 10 – Kurumba's staff have got talent evening
February, 23 – Blood donation day
February, 25 – Remembering key staff; announcing the new team Restaurant – Idrees Restaurant.
March, 1 – National qualification commences for our Maldivian team
March, 8 – International women's day luncheon
March, 8 – Full moon evening & Maldives fashion parade
April, 22 – Earth day – lagoon cleaning and energy conservation day
May, 21 – Maldives music unplugged – 3 Maldivian bands + 1 DJ
May, TBC – Local orphanage – donating of sports items, toys from guest & equipment
June, TBC – Advanced watersports show
June, TBC – Opening of the Kurumba 40th year museum
July, TBC – Maldives artist in residence
July, 1st-15th – Inter-island Olympics (futsal, volleyball, cricket + netball)
August, TBC – Commencement of coral propagation
August, 20 – Local Orphanage Eid lunch
August, 28 – Maldivian Mothers cooking classes
September, 1 – Alternative languages classes round one completion
September, 5 – Over 20's year's employee's Lunch
September, 27 – Local school luncheon and site inspection
September, 27 – Kurumba History Coffee table book launch
September, 27 – Maldivian DH evening
September, 28 – Local Children Art Competition
September, 28 – Maldivian cooking class
September, 28 – Sunset Jazz at the Sand Bar
September, 29 – Lagoon cleaning
September, 29 – Kurumba nuts and bolts tour
September, 29 – Wine and sunset cruise
September, 30 – Male History Tour
September, 30 -Visit a local Island
September, 30 -Full Moon Event with Maldivian Band
October, 1 – 40 Divers on Kurumba house reef
October, 1 – Over 30 years staff family day
October, 1 – Guided snorkel with a marine biologist
October, 2 – Coral propagation activity
October, 2 – Bodu Beru afternoon
October, 2 – Staff anniversary Party
October, 3 – History Presentation
October, 3 – 40th Anniversary Gala Evening
Date and events may change without notice.
About Kurumba Maldives
Kurumba Maldives is set on a tropical island in the North Male' atoll, conveniently situated a brief 10 minute speed boat ride from the airport. Dotted with coconut trees that are the island's namesake, Kurumba was the first private island resort in the Maldives. Lush tropical gardens, white sandy beaches and a vibrant house reef are the hallmarks of this classic Maldivian resort.
The resort offers an array of eight styles of accommodation, ranging from comfortable Superior rooms to the spacious Royal Residence, spread amongst the island's lush tropical gardens with easy access to the beach. With nine different restaurants to choose from Kurumba Maldives will charm you with its unparallel choice of dining experience and a wide range of recreation activities and entertainment. All while maintaining idyllic refuges and quiet spaces of relaxation to create the perfect balance for a holiday in paradise, perfect for honeymooners and family alike.
For further information, please contact [email protected] or our global PR agencies: