Getting away from it all can prove a great tonic to a relationship as well as providing couples with precious memories, which they can enjoy for years to come. One great destination for a holiday 'a deux' is the Maldives.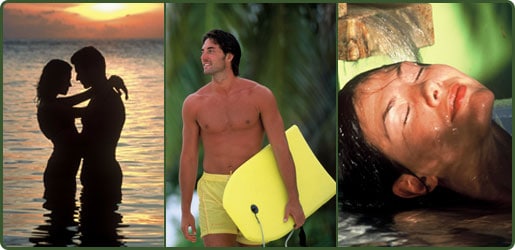 Sitting in the stunning Indian Ocean, the islands of the Maldives provide a great getaway for lovers looking for a little one on one time away from the rat race. With stunning white sand beaches washed by crystal clear waters and a superb selection of indulgent accommodation the Maldives provides the perfect backdrop to any romantic break – with options available to suit all tastes and budgets.
Things to do in the Maldives
With the majority of resorts in the Maldives being based on the beach there is no shortage of opportunities to indulge in soaking up the sun, while there are some exciting water based alternative activities on offer for those looking to try out something a little more strenuous.
Choose from a range of options including: Snorkelling, Water skiing, Sailing, Kite boarding, Scuba diving, Windsurfing, Canoeing, Parasailing, Catamaran sailing, Wake boarding, Ringo riding, Banana Riding, Submarine diving, Jet Skiing, Big game fishing and many more.
Anyone interested in these activities will be able to find instructors and guides on hand in most resort locations to guide them through their early efforts.
Alternatively, more competitive couples may wish to indulge in a spot of sport like tennis or beach volleyball.
Spoil Yourself at Maldives Spas
For those who prefer their romantic breaks to be more focused on relaxation than more energetic recreation, the island resorts offer a stunning selection of spa facilities perfect for a bit of personal pampering for both partners.
Choose from a wide range of relaxing and rejuvenating treatments including massages, mud wraps and more – all set in these stunning tropical surroundings, perfect for refreshing the mind and recharging tired bodies.
Enjoy Eating Out in the Maldives
With so many top notch accommodations on offer in the Maldives it is no surprise that they offer some superb eateries serving the local fish based dishes as well as others inspired by international cuisines.
Couples can enjoy a romantic candlelit dinner while taking in the stunning scenery, from panoramic island vistas to an amazing undersea tableau at one of the world's few underwater restaurants.
Why choose the Maldives?
The islands of the Maldives have so much to offer couples.  Nowhere else can you find the same level of disconnection from daily life as the tropical retreats of the Maldives, where you can simply enjoy the company of your partner.