The Maldives is growing more popular each day for exotic vacation plans – and it's not surprising. Not only is the Maldives gorgeous in appearance, but Maldives resorts offer activities and accommodations that appeal to all personalities and interests. With the many resort activities, there is truly something for everyone on one of the world's most beautiful island nations, the Maldives.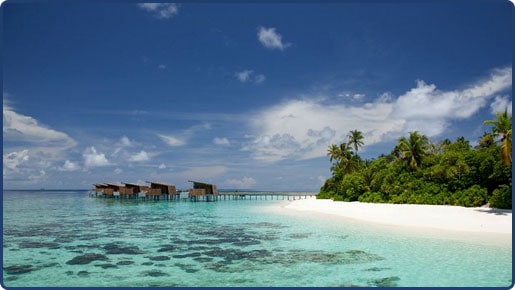 An Active Vacation
Diving is one of the most popular activities, however, if you are after a slightly tamer version, snorkelling is equally fascinating. The marine flora and fauna of the Maldivian waters is truly spellbinding.
You can also enjoy: Catamarans, Tubing, Fishing, Para-sailing, Beach Volley, Jet Skiing, Windsurfing, Resort pools, Hot tubs and many more.
Relaxation for the Body and Mind
If you aren't looking for much in the way of activity on your vacation and would prefer to relax on the beach or at one of the many quality spas, you have many options to choose from. The Maldives offers a number of resorts with full menus of spa treatments and services, or you can head to the white sands. Here is what is available:
Spa services – including facials, massages, body scrubs, etc.
Beaches and secluded lagoons – if you want to get away from everyone, find a spot on the beach, close your eyes, and let your thoughts drift away
Find more about Maldives spa resorts
Family Activities for Everyone
If you are on a family vacation, you can find Maldives resorts that offer family activities, including: Pools, Tennis, Badminton, Table tennis, Water parks, Sporting centers, Family games on the beach
Find more about Maldives family resorts
The Maldives Honeymoon
Many newly married couples choose the Maldives as their honeymoon destination. With romantic sunsets and sunrises, each day becomes a picturesque memory. Many Maldives resorts offer honeymoon packages, including breakfasts that are cooked in your room as well as champagne on your own private beach.
With something for everyone, Maldives resorts offer you a chance to try a little bit of everything, or just sit back on the beach and work on your tan.
Find more about Maldives honeymoon resorts