Publishing firm Tropical Paradise Pvt Ltd has confirmed it is to hold a glittering Maldives Traveller Awards for Excellence event.
The event will honour the best resorts in the Maldives, as voted for by readers from around the world. The aim of the awards ceremony is to encourage excellence and competition within the Maldivian hospitality industry for the mutual benefit of consumers and those in the trade alike.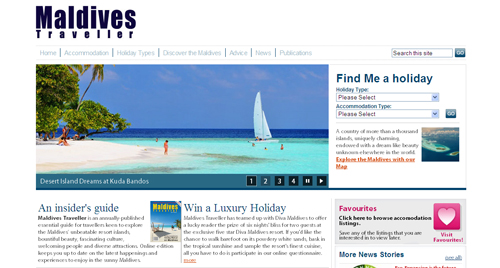 Tropical Paradise Pvt Ltd is the owner of Maldives Traveller magazine and website, which is registered in Maldives and France, and promotes the Maldives to an international audience. Readers from around the world have been voting for their favourite resorts on the magazine and the website survey. So far more than 50,000 surveys have been collected.
The results of the Maldives Traveller survey will help to compile the ultimate hotlist of the "best in the Maldives", according to the votes of the consumers themselves. The votes will help compile a shortlist of five nominees for each of the 10 Maldives Traveller Awards for Excellence prize categories; which include the top "Dream Island" that travellers want to visit and overall "Best Resort in the Maldives"; as well as the best for honeymoons, wedding ceremonies, spa relaxation, snorkelling, diving, surfing, business and family holidays. Readers will be asked to vote for their favourites of the top five finalists in the 10 categories online in August, and the winners will be announced at the award ceremony.
Tropical Paradise Pvt Ltd has recently assigned stellar international events company, Mind-Set, to organise the Maldives Traveller awards ceremony. The glamorous award presentation ceremony will see a fabulous gala dinner and spectacular entertainment for nominees. It will take place in Berlin, Germany, in March 2011.
The glossy Maldives Traveller magazine, which celebrates its 10th anniversary next year, is distributed both in the Maldives and across the globe in seven different languages; English, French, Italian, German, Japanese, Russian and Chinese. It is the most comprehensive guide to Maldives resorts in existence, and includes information on Maldivian culture, society and flora and fauna as well as diving and surfing advice. The website, MaldivesTraveller.mv, covers Maldivian travel and tourism news and features, and is updated daily with the latest reports.
Mind-Set events company is based in Austria and has been making waves around the world for its events, promotions and incentives work with major multinational corporations including Western Union, Coca Cola, Toyota, Sony Ericson, HP and Nokia.
For more informationcall +960 333 7588 or email [email protected]. www.maldivestraveller.mv