Male', 27 October 2008; Maldives Tourism Promotion Board together with the Maldives tourism industry held road shows in Kuala Lumpur, Bangkok and Singapore on the 17th, 20th and 21st of October respectively.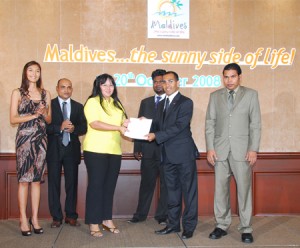 The main objectives of these road shows are to diversify further into South East Asian market. This new approach of promoting the Maldives as a destination for South East Asian visitors will further enhance the existing business collaboration and pave way for new business ties. South East Asia is a promising market in consideration of easy access to Maldives and a growing affluent population. It is the first time that MTPB has organized a road show targeting South East Asian market.
The road shows were mainly targeted to the travel trade and media. Maldivian event in Kuala Lumpur was attended by over 50 participants, while Bangkok event welcomed over 130 participants and Singapore event was attended by over 70 participants. The attendees included travel agents, tour operators, airlines companies and the media. Presentation about the Maldives as tourist destination was given to the participants by Maldives Tourism Promotion Board. In addition, industry participants gave presentations about their products. During each of these events a raffle was held and winner won a holiday for two in Maldives with complements of Adaaran.
Last year Maldives welcomed a total of 675,889 visitors. Asian market represented 144,363 visitors which is 23.3% of the market share.
Source: MTPB