Tropical Paradise Pvt. Ltd, a leading travel publishing firm based in Maldives has launched its official website; www.maldives-traveller.com the privately owned publishing firm that helps in promoting the tourism industry of Maldives around the globe five years ago launched the publication "Maldives Travel Guide" which became an instant hit in the international travelers market.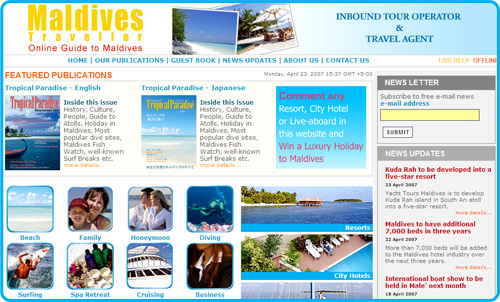 Though the publication began in Japanese, aimed at the lucrative Japanese tourist market, the firm has now expanded the Maldives Travel Guide into English, Russian, German, French and Italian.
Like its travel guide, Tropical Paradise's website is also one of the most comprehensive guides on Maldives tourism.
The firm said on its website that one of its visions was to "continue its growth by increasing the number of publications in different languages which are most suited to promote the tourism of Maldives."
The firm's Maldives Travel Guide is a customer oriented publication and one of the most comprehensive, informative, user-friendly and entertaining guides on Maldives.
Tropical Paradise also explores new markets with an in-depth understanding of cultural diversity of each nation to develop the Guides in-accordance with the tastes of different market segments, the firm said on its website.