Maldives Holidays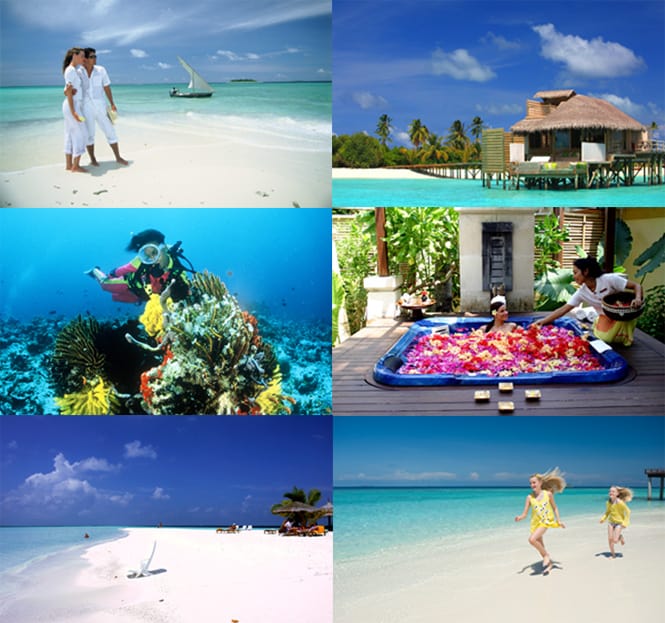 Exotic hideout with white sand beaches; warm, clear waters; year-round sunshine, swaying palm trees, peace and tranquility in an island paradise setting… sounds like the setting for a romantic novel? Indeed. However, in real life, that is the Maldives.
Located in the Indian Ocean about 700km southeast of India, the Maldives is one of the most sought after holiday destinations in the world; just the right place for holidays and honeymoons. The Maldives saddles the equator with thousands of tropical islands scattered across an area measuring 820km in length and a width of 120km.
Even though the Maldives is only a scattering of dots on the map, getting to the Maldives is as easy as catching a plane. Many scheduled and charter flights operate to the Maldives on a regular basis from Europe, Middle East and Asia. On arrival, irrespective of nationality, everyone is issued a free thirty-day tourist visa.
Maldives Resorts
There are over 100 resort islands to choose from for a perfect Maldives holiday. The Maldives resorts are well designed to cater for the holiday of your choice. The available options range from budget holidays to luxury holidays. Or, if you are looking for a family holiday or a romantic honeymoon holiday, a holiday in a Maldives resort is still the perfect choice.
Liveabords
There are many liveaboard cruise boats registered and operating in the country. They vary in size from 3 cabin sailing boats to much larger ones and offer facilities and services ranging from modest to exclusive. All these vessels is that they are staffed by highly experienced professionals who know the Maldivian waters like the backs of their hands.
A holiday on a cruise boat in the Maldives is one of the best ways to experience the unique splendor and tranquility of this tropical paradise. Holidaying on a cruise boat makes it possible for you to sample many varied dive sites at different atolls and locations. It also allows for the opportunity to sample island life, visit virgin uninhabited islands and appreciate the unique beauty of different resort islands.
List of liveaboards in Maldives
Hotels
Guest Houses