Maldives Luxury Resorts
In deed the luxury traveler is blessed for choice among the most well known tourist destination in the world. No doubt the ever expanding list of destinations on offer for luxury travel among glittering modern cities, buzzing metropolis and grand historic cities is endless.
But that's the list everyone seeking an indulgent break is looking at! So why don't you look somewhere else? Somewhere special and unique – where not even a memory of bustling cities can reach you!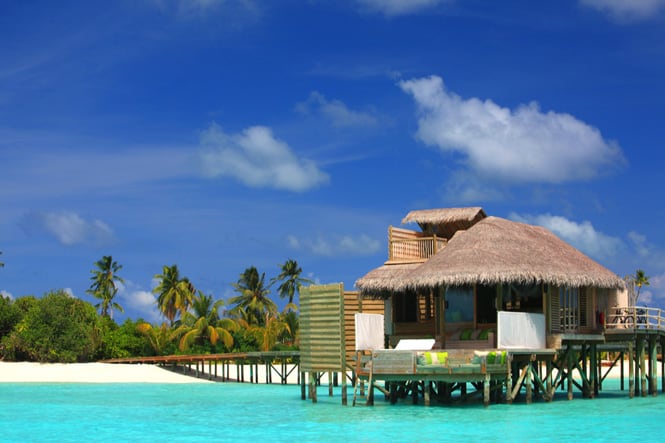 Indeed, a luxury traveler must pamper oneself with the deluxe amenities, impeccable service and befitting style. You can now enjoy all this at one of the world's most secluded island getaways – the Maldives?
The Maldives offers exquisite luxury resorts that could weave you your dream vacation – be it for business or pleasure!
It would be rather difficult to draw a comparison between Maldives and other luxury destinations – for Maldivian resorts have established and maintain a class of their own that defines the epitome of luxury. Each resort housed on a separate island by itself offers a unique blend of modern luxury and isolated serenity.
With no exception, all resorts have soft sandy beaches, translucent clear lagoons enclosed by house reefs inhabited by a variety of marine flora and fauna and everything else you would expect on a tropical holiday within a few minute's walking distance the most.
Tailor made holidays to the Maldives on scheduled flights connect via Dubai, Doha or Colombo, also package holidays to the Maldives are served by charter flights (approximately 10 hours flight non-stop) from the UK.
Whichever resort you choose in the Maldives, whether reached by speedboat or seaplane transfers from the international airport, each resort island has its individual charm, character and ambience that words cannot do justice to – and can only be appreciated through personal experience.
List of luxury resorts in Maldives