Alifu Alifu Atoll

72.4 km

82 Rooms
The W Maldives is a five-star private island resort in the heart of the Maldives. The resort provides an unscripted island experience that satisfies guests' desire for adventure. The only Music Curator in the Maldives amplifies infinite days from the moment you step onto the heart-shaped island. The resort features playful overwater guest rooms with private pools, as well as innovative cocktails and cuisine, all of which contribute to a cutting-edge lifestyle experience.
The resort is designed to meet the needs of all types of visitors. You can live it up and soak it in from comfortable, stylish accommodations inspired by the breathtaking natural beauty of the Maldives, whether you prefer to jump into the ocean from the deck of your overwater bungalow or lush tropical foliage steps from the sand offered by beach bungalows.
Guests can enjoy a variety of exciting activities at the resort, including diving and exploring one of the best house reefs in the Maldives. The resort's house reef is directly accessible from your villa and is home to hundreds of species of marine life just waiting to be discovered. Guests can snorkel and enter a whole different world of vibrant coral forests and captivating diversity of marine life, which is accessible from anywhere on the resort.
W Maldives also has a variety of dining options that serve creative and delicious cuisine. The resort has four vibrant restaurants and two bars that are beautifully dispersed throughout the island, ensuring that every dining experience is infused with the pulsating beauty of the Maldives.
W Maldives Spa
W Maldives has a pampering AWAY Spa in addition to a variety of activities and dining options. Guests can relax and rejuvenate their bodies and minds by indulging in a variety of treatments and massages.
The resort also offers a range of packages to guests, including overnight stays, desert island trips, private dinners under the stars, dive and relax sunset cocktails, and dream weddings on Gaathafushi, the resort's private island.
Guests can discover W Maldives' unscripted beauty through breathtaking 360° panoramic views of the visionary retreat of natural beauty and unforgettable recreation. The resort invites guests to stay longer and go further as they immerse themselves in the extraordinary Maldivian experience in pulsating W style.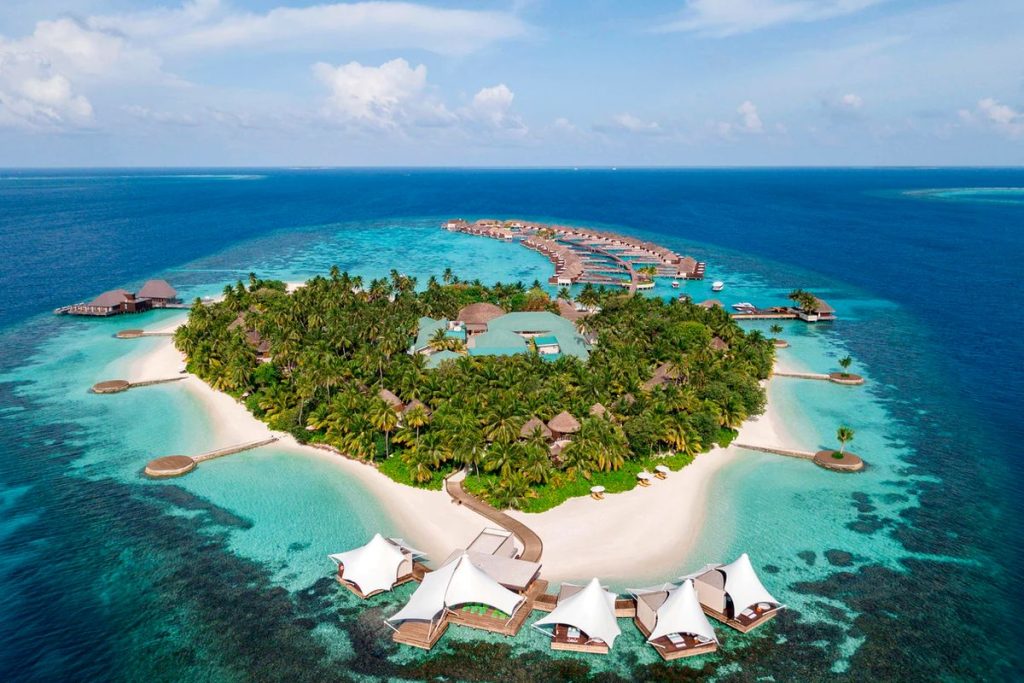 W Maldives offers a bold and unscripted island resort experience that will leave you wishing to soak it all in, live it up, and repeat. Guests will leave feeling relaxed, rejuvenated, and energized, thanks to the resort's stunning overwater bungalows and a variety of exciting activities and dining options.
Room Types and Facilities
Available Room Types: Water Bungalows, Suites, A/C Rooms, Villas
Room Facilities: Hot and Cold Water, Hair Dryer, Mini Bar, Idd Telephone, Internet, Safe, Tea / Coffee Maker, 24h Room Service, Private Pool
Resort Facilities
Swimming Pool, Sauna, Discotheque, Spa, Internet / Wi-Fi, Business Center, Laundry, Fitness Center, Dive Center, Gift Shop, Restaurants
Sports and Recreation
Scuba Diving, Windsurfing, Catamaran Sailing, Parasailing, Canoeing, Water Skiing, Wake Boarding, Fishing Trip, Excursion
Location on Map
Contact W Maldives
Fesdu Island, North Ari Atoll, Maldives, 09110
Tel: +960 666-2222
Email: [email protected]
Website: https://www.marriott.com/en-us/hotels/mlewh-w-maldives/overview/