Niyama Private Islands
Embudhufushi and Olhuveli

Dhaalu Atoll

180 km

137 Rooms
Niyama Private Islands, a breathtaking luxury resort located in the pristine Dhaalu Atoll of the Maldives. Owned and operated by Minor Hotels – Anantara Group, this extraordinary destination offers an unparalleled fusion of style, sophistication, and natural beauty. With its twin islands, Play and Chill, Niyama provides a unique atmosphere that caters to both relaxation and adventure seekers. In this guide, we will explore the resort's stunning accommodations, exquisite dining options, rejuvenating wellness experiences, and thrilling activities that make Niyama an unforgettable tropical paradise.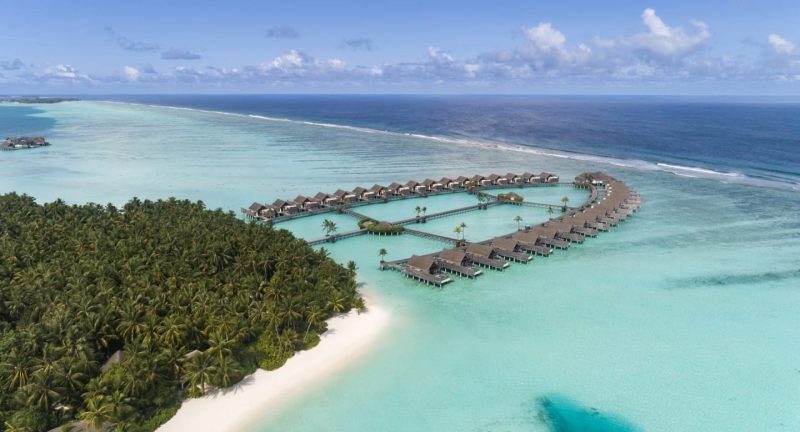 Accommodation
Niyama Private Islands boasts an array of luxurious accommodation options, ranging from serene beachfront villas to enchanting overwater sanctuaries. Each villa and suite is designed with contemporary elegance and furnished with modern amenities, ensuring a comfortable and indulgent stay.
Beach Villas: Nestled amidst lush foliage, these private retreats offer direct access to the powdery white sand and turquoise waters. The spacious interiors feature king-size beds, open-air bathrooms, and a private sundeck with a plunge pool, providing the perfect setting for relaxation.
Water Villas: Perched above the crystal-clear lagoon, these overwater havens boast uninterrupted ocean views, private sundecks, and steps leading directly into the water. Revel in the soothing sound of the waves as you unwind in your private infinity pool or soak in the bathtub overlooking the Indian Ocean.
Family Beach Pool Villas: Designed with families in mind, these expansive villas offer ample space, including separate living areas, a children's sleeping area, and a private pool. The beachfront location ensures endless hours of fun and relaxation for the entire family.
The Crescent: For the ultimate luxury experience, The Crescent is an exclusive ensemble of five ultra-lux villas that can accommodate up to 14 guests. With a dedicated butler, private chef, and a pristine stretch of beach, this lavish sanctuary promises an unparalleled level of privacy and indulgence.
Dining Experiences
Niyama Private Islands offers a diverse array of gastronomic delights, with nine exceptional restaurants and bars that cater to every taste and occasion.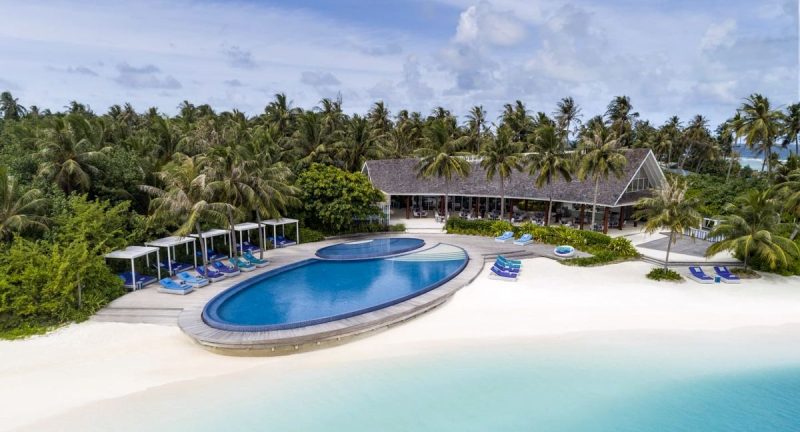 BLU Restaurent: Located on the beachfront of a secluded cove, BLU Restaurent is a Mediterranean-style eatery that offers guests an unforgettable dining experience. With stunning views of the ocean and a menu featuring locally sourced ingredients, each dish is prepared to perfection with the utmost care and attention.
Epicure: This all-day dining venue serves international cuisine in a relaxed, poolside setting. Enjoy sumptuous buffets, live cooking stations, and themed dinners complemented by stunning ocean views.
Nest: Tucked away in the lush jungle, Nest offers a unique dining experience amidst the treetops. Savor delectable Asian fusion dishes while admiring the breathtaking canopy surroundings.
Tribal: Inspired by African, Central, and South American culinary traditions, Tribal presents an interactive dining experience complete with live cooking demonstrations and a cozy, open-air ambiance.
Edge: Accessible only by boat, Edge is an exclusive overwater restaurant that offers modern fine dining with a focus on fresh seafood and prime meats, accompanied by panoramic views of the Indian Ocean.
Subsix: Dive beneath the waves and indulge in a one-of-a-kind underwater dining experience at Subsix. Sip champagne and savor gourmet delights as you marvel at the vibrant marine life through floor-to-ceiling windows.
Epicure Restaurent: For a truly unique dining experience, Epicure Restaurent offers guests the chance to sample regional and international dishes in an elegant setting. Located on the picturesque beachfront of the Indian Ocean, Epicure provides guests with breathtaking views of the ocean while they enjoy a sophisticated menu featuring fresh seafood
Wellness and Spa Experiences
At Niyama Private Islands, guests can indulge in a range of rejuvenating wellness experiences at the Drift Spa. The spa offers a variety of treatments, including massages, facials, and body wraps, all designed to soothe and revitalize your mind, body, and spirit. The tranquil spa facilities include steam rooms, saunas, plunge pools, and a relaxation area, providing the perfect environment for ultimate relaxation.
Activities and Amenities
Niyama Private Islands offers a wealth of activities and amenities to suit every interest and energy level. From exhilarating water sports like surfing, snorkeling, and diving to leisurely pursuits such as yoga and cooking classes, there is something for everyone. Families will love the resort's kids' club, Explorers, which offers a variety of engaging activities and experiences designed specifically for young adventurers.
Niyama Private Islands: A Unique Destination
With its stunning natural beauty, luxurious accommodations, world-class dining, rejuvenating spa experiences, and thrilling activities, Niyama Private Islands truly stands out as a unique and enchanting destination in the Maldives. Whether you are seeking a romantic escape, a family vacation, or an unforgettable adventure, Niyama promises to deliver an extraordinary experience that will leave you with memories to cherish for a lifetime. Come and discover the magic of Niyama Private Islands – your luxurious paradise awaits.
Room Types and Facilities
Available Room Types: Bungalows, Water Bungalows, Suites, Villas
Room Facilities: Hot and Cold Water, Hair Dryer, Idd Telephone, Internet, Tea / Coffee Maker, Iron / Ironing Boards, 24h Room Service, Private Pool, Refrigerator, TV
Resort Facilities
Swimming Pool, Sauna, Discotheque, Spa, Internet / Wi-Fi, Laundry, Fitness Center, Restaurants, Bars, Kids Club
Sports and Recreation
Scuba Diving, Windsurfing, Catamaran Sailing, Parasailing, Water Skiing, Wake Boarding, Jet Ski, Tennis, Aerobics, Safari Trip, Fishing Trip, Dolphin Watching, Sandbank Picnic, Flyboarding
Location on Map
Contact Niyama Private Islands
PO Box 2002 Republic of Maldives
Tel: +960 664 4111

Email: [email protected]
Website: www.niyama.com