OZEN LIFE Maadhoo
Maadhoo

Kaafu Atoll

35.5 km

121 Rooms
OZEN LIFE Maadhoo is an all-inclusive, five-star resort situated on a secluded island in the South Malé Atoll, just a 35-minute speedboat ride from Malé International Airport.
Spread across 8.6 acres of lush tropical landscape, the resort boasts 90 luxurious over-water and beachfront villas, each offering unparalleled views of the Indian Ocean. With its commitment to personalized service, exclusive amenities, and unforgettable experiences, OZEN LIFE Maadhoo promises an idyllic Maldivian escape for couples, families, and solo adventurers alike.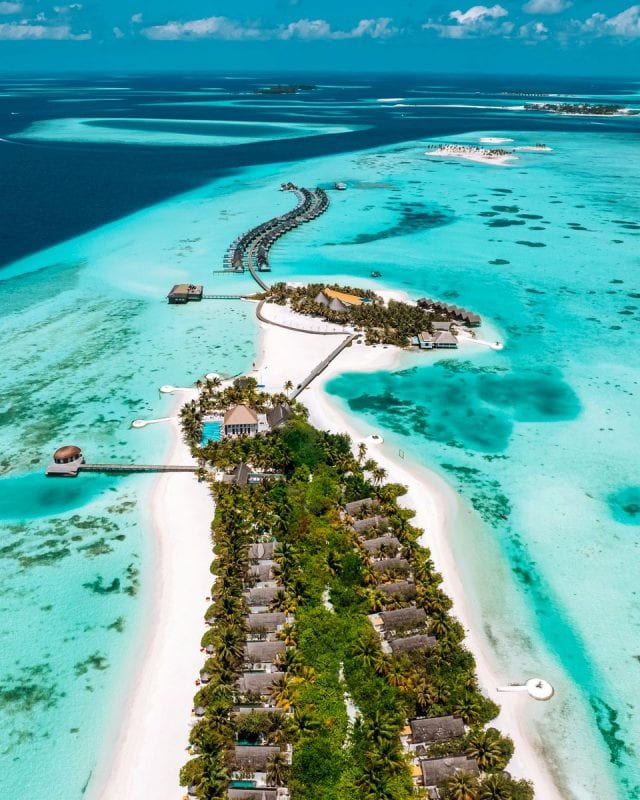 Accommodation
OZEN LIFE Maadhoo offers a diverse range of accommodations designed to cater to every taste and preference. Each villa is elegantly appointed and features modern amenities, ensuring a comfortable and indulgent stay. The resort's accommodations include:
Earth Villas: These spacious 185 sqm beachfront villas offer direct access to the island's powdery sands and turquoise waters. Each Earth Villa features a large outdoor deck, tropical garden, and a private 35 sqm infinity pool, perfect for soaking up the sun in style.
Wind Villas: Perched on stilts above the crystal-clear lagoon, these 85 sqm over-water sanctuaries provide uninterrupted ocean views and direct lagoon access. Wind Villas feature elegant interiors, expansive outdoor decks, and luxurious standalone bathtubs, creating a serene haven for relaxation.
Earth Family Pool Suites: Ideal for families or groups of friends, these 285 sqm suites boast two interconnected bedrooms, a spacious living area, and an expansive outdoor deck with a 50 sqm private pool. The Earth Family Pool Suites offer the ultimate in comfort and privacy, ensuring an unforgettable Maldivian getaway.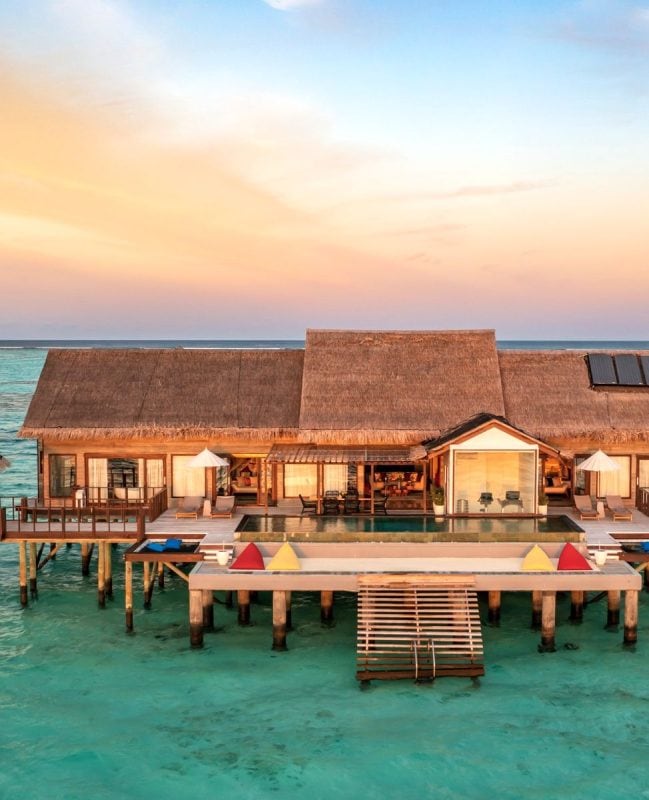 OZEN Residence: For the ultimate luxury experience, the 430 sqm over water suite offers three elegantly-appointed bedrooms, a spacious living area, a private gym, and a personal spa treatment room. The expansive outdoor deck features a 35 sqm infinity pool, a dining pavilion, and direct lagoon access, providing an unparalleled over-water retreat.
Dining
OZEN LIFE Maadhoo offers a variety of excellent dining choices that cater to a wide range of tastes and culinary preferences.
The Palms: The resort's main restaurant serves a daily buffet breakfast, lunch, and dinner, featuring international cuisine and live cooking stations. Enjoy an array of flavors from around the world while taking in the stunning ocean views.
The Traditions – IndoCeylon: This specialty restaurant offers an authentic taste of Indian, Sri Lankan, and Maldivian cuisine, showcasing the rich culinary heritage of the region.
The Traditions – Peking: Experience the delectable flavors of Chinese cuisine at this elegant restaurant, which serves a selection of timeless dishes in an intimate setting.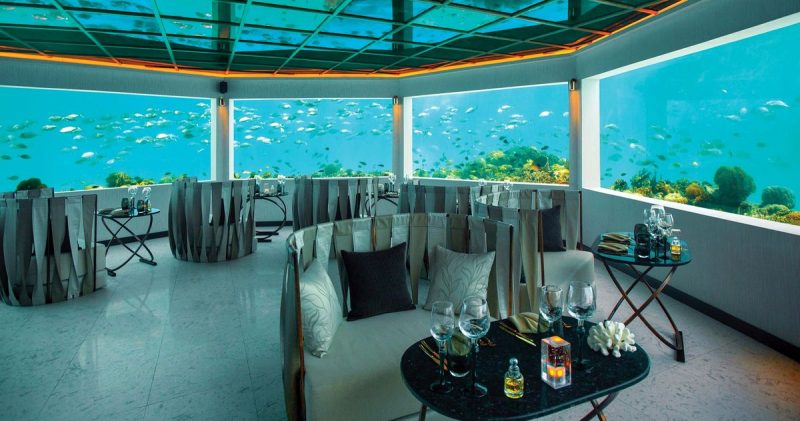 M6m (Minus Six Meters): This unique underwater restaurant offers a memorable fine dining experience, serving exquisite modern seafood dishes while surrounded by the vibrant marine life of the Maldives.
Joie de Vivre: This lively poolside bar and pizzeria offers a relaxed atmosphere, perfect for enjoying refreshing cocktails, gourmet pizzas, and light snacks throughout the day.
Spas and Wellness
ELENA Spa & Wellness Complex promises a rejuvenating escape, with a range of personalized treatments tailored to your individual needs. The spa features: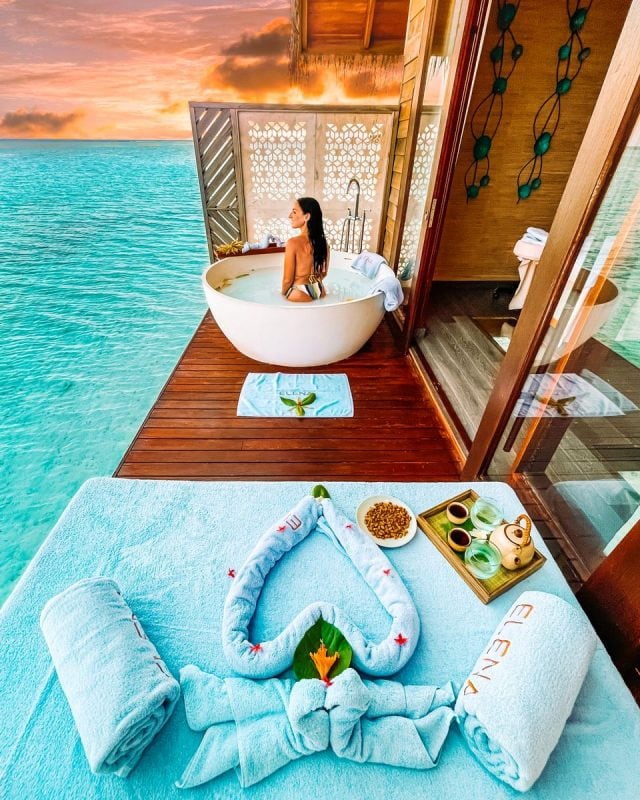 Eight over-water treatment rooms, each with a private outdoor relaxation area
A dedicated Ayurveda treatment room
A team of experienced therapists using natural and organic products
A comprehensive menu of massages, body scrubs, facials, and holistic therapies
In addition to the spa, the resort offers a state-of-the-art gym, daily yoga and meditation sessions, and various water sports and recreational activities to promote health and well-being during your stay.
With its luxurious accommodations, world-class dining, and exceptional spa and wellness facilities, OZEN LIFE Maadhoo invites you to experience the ultimate Maldivian paradise. Immerse yourself in the beauty of the Indian Ocean and create unforgettable memories at this extraordinary resort.
Facilities and Activities
OZEN LIFE Maadhoo offers an array of top-notch facilities and exciting activities to enhance your stay, ensuring a fun-filled and memorable Maldivian experience for guests of all ages:
Water Sports Center: The resort's fully-equipped water sports center offers a wide range of activities, including snorkeling, windsurfing, kayaking, stand-up paddleboarding, and catamaran sailing. Expert instructors are available for lessons and guidance, catering to both beginners and experienced enthusiasts.
PADI Certified Dive Center: Explore the vibrant underwater world of the Maldives with the assistance of professional PADI-certified instructors. The resort's dive center offers courses for all levels, as well as guided diving excursions to nearby reefs and dive sites.
Excursions and Experiences: Choose from a variety of curated experiences, such as sunset fishing, dolphin watching, sandbank picnics, and local island visits, to help you discover the unique beauty and culture of the Maldives.
Kids Club: Younger guests can enjoy a range of fun and educational activities at the resort's dedicated kids club, featuring both indoor and outdoor play areas, supervised by trained staff.
Entertainment and Events: OZEN LIFE MAADHOO hosts regular themed evenings, live music performances, and cultural shows, providing guests with a taste of Maldivian culture and entertainment.
Swimming Pool: The resort features a large infinity pool overlooking the ocean, offering a refreshing spot to relax and soak up the sun.
Boutique Shop: Visit the resort's boutique shop for a selection of souvenirs, local handicrafts, and essential items to take back home.
Wedding and Honeymoon Packages: Celebrate your love in the romantic setting of OZEN LIFE Maadhoo with tailored wedding and honeymoon packages, including beachfront ceremonies, private dining experiences, and couple's spa treatments.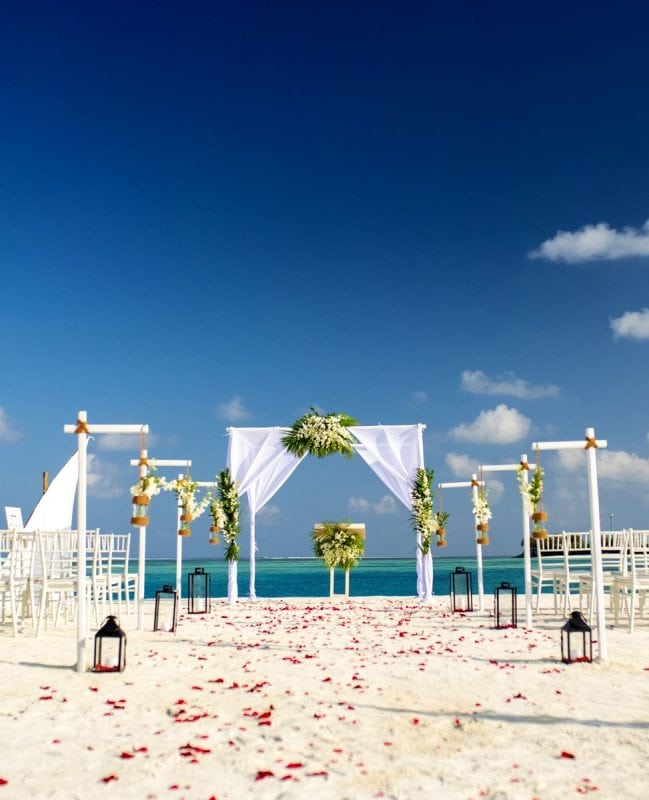 With its extensive range of facilities and activities, OZEN LIFE Maadhoo ensures a memorable and enjoyable stay for guests of all ages. Whether you're seeking relaxation, adventure, or cultural exploration, this exceptional resort offers something for everyone in the breathtaking Maldives.
Room Types and Facilities
Available Room Types: Bungalows, Water Bungalows, Suites, Villas
Room Facilities: Hot and Cold Water, Hair Dryer, Mini Bar, Satellite TV, Jacuzzi Bathtub, Internet, Tea / Coffee Maker, 24h Room Service, Private Pool
Resort Facilities
Swimming Pool, Spa, Internet / Wi-Fi, Laundry, Fitness Center, Childcare, Dive Center, Restaurants, Bars
Sports and Recreation
Location on Map
Contact OZEN LIFE Maadhoo
South Male Atoll, Maldives 08160, Maldives
Tel: +960 400 2222
Tel: +960 939 5353
Email: [email protected]
Website: theozencollection.com